Nicola Sturgeon update: what time will Scotland's first minister speak today following Glasgow lockdown announcement?
Visiting restrictions are now in place in West Dunbartonshire, the City of Glasgow and East Renfrewshire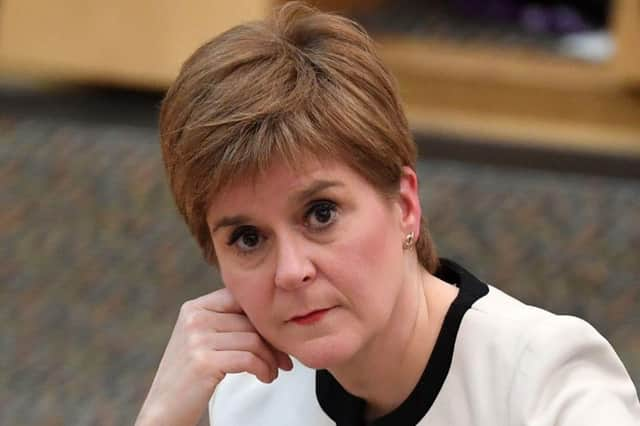 The restrictions came into force at midnight and will be in place for two weeks with a review planned for one week's time.
The new rules apply to West Dunbartonshire, the City of Glasgow and East Renfrewshire and mean that residents cannot host people from other households in their homes.
Exceptions apply for emergencies, caring for vulnerable people and extended households.
Speaking yesterday the First Minister voiced her frustration at the need to introduce the new measures.
The announcement came hours after it was revealed that the leading SNP party would table a new referendum bill ahead of the 2021 Holyrood elections.
When is Nicola Sturgeon set to speak?
First Minister Nicola Sturgeon will field questions from MSPs at 12.20pm.
BBC Scotland will also broadcast First Minister's Questions live, and they can also be watched on various live streams on Youtube.
What has Nicola Sturgeon said about new Glasgow restrictions?
Nicola Sturgeon announced the visiting restrictions last night, saying that she felt "frustrated" they were necessary.
The First Minister explained the rationale behind the decision, revealing that transmission was mainly taking place in households.
"The virus is spreading again - in the West of Scotland especially - and the rise in cases in these 3 areas is a particular concern," she said via Twitter. "Given the toll we know COVID can take, doing nothing is not an option. However, Test & Protect now allows us to be more targeted in what we do."
She added: "Our data suggests that spread in and between households is driving much of the transmission just now. That doesn't mean there are no cases in pubs etc - but unlike in Aberdeen, pub clusters don't appear, at this stage, to be main driver. That analysis has guided decisions.
"Based on data, clinical advice is that restricting household gatherings indoors - where it is most difficult to keep physical distance - is vital. Closing pubs wouldn't be an alternative to that - but an additional measure which, for now, they don't consider proportionate."
She concluded: "I know how difficult all this is. I hate having to take these decisions and you all hate the impact of them. My plea is that we treat yesterday's developments as a wake up call and take seriously our individual responsibilities to stop #COVID spreading."