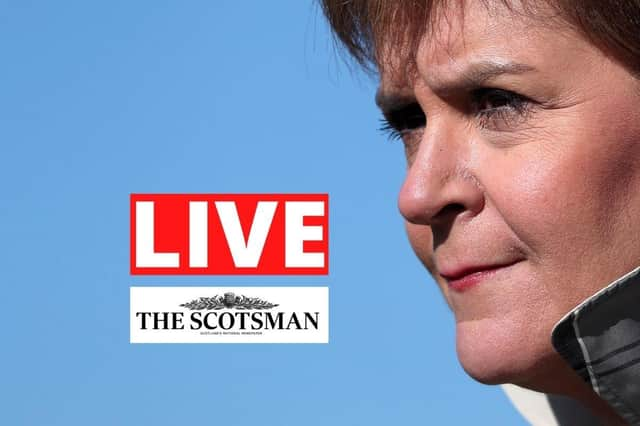 The First Minister gave an update to MSPs in the Scottish Parliament.
She confirmed Scotland will see no new restrictions as a result of Covid-19, Nicola Sturgeon has said, but the situation with the virus "remains fragile".
The First Minister told MSPs on Tuesday there had been a slight increase of about 2% in cases in the last few days.
Nicola Sturgeon added Cop26 will "inevitably" pose a risk of transmission of Covid-19.
But the First Minister told MSPs work has been done by the Scottish Government and United Nations to mitigate the effects.
Nicola Sturgeon gives Covid update ahead of COP26
Key Events
Show new updates
The First Minister has concluded her statement. If you're just joining us, here are some key points.
The FM confirmed a £482m funding package to help the NHS over winter - £120m for test and protect, £130m for the vaccine programme and the remaining balance for "staffing and equipment".
She also confirmed lateral flow tests will replace PCR tests for arriving travellers from Oct 31.
She also said that no changes will be made to the Covid mitigations in place - including rules around face masks.
53% of 12-15 year-olds have now received their first jag
Nicola Sturgeon also called COP26 'one of the most important gatherings of the century so far'
The First Minister is expected to begin Tuesday's briefing by announcing the latest coronavirus figures and giving a general update on the numbers.
It is likely she will address the delays in the rollout of Covid-19 booster jags.
A further 2,262 people have tested positive for Covid – which is 11.5% of the tests carried out yesterday. There have been 20 deaths in 24 hours.
There are 917 people in hospital with recently confirmed Covid-19, and 59 were in intensive care yesterday.
The latest vaccination figures. 4,309,932 people in Scotland had received their first dose of the vaccine.
In addition, 3,897,133 have received their second dose.
If you are just joining us in the Live blog, then welcome, and just a reminder, we expect the First Minister to begin her address around 2:30pm.
The Scottish Government has insisted the Covid-19 booster programme in Scotland is "on track", after calls from opposition MSPs to speed up the rollout.
We are still waiting on the First Minister to address the chamber. Nicola Sturgeon is about to update MSPs at Holyrood on the latest developments around the coronavirus crisis, ahead of COP26. We'll have all the updates as we get them.