Nicola Sturgeon told more staff needed to lead 'test, trace, isolate' plan
The Scottish Government must speed up the recruitment of "contact tracing" staff to lead the next phase of Scotland's battle against coronavirus, a leading public health expert has warned.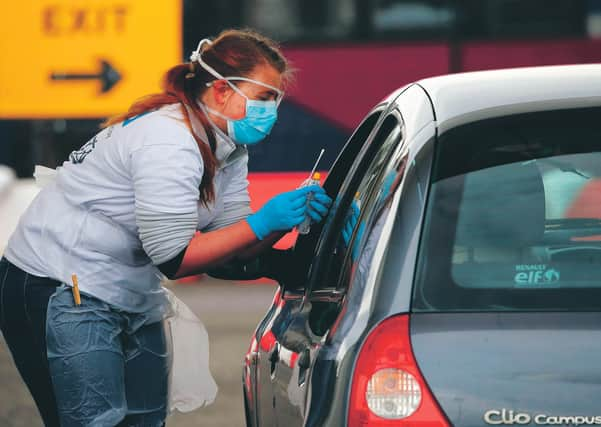 First Minister Nicola Sturgeon will today unveil plans for the roll-out of a "test, trace and isolate" strategy to keep Covid-19 under control in Scotland after the current lockdown is lifted.
The approach will be a key aspect of the future approach in fighting the virus after the latest figures showed that cases are continuing to fall in Scots hospitals which could hasten the end of the current restrictions on movement.
Intensive care cases in Scotland's hospitals fell below 100 for the first time since the outbreak took off over a month ago. The fall of nine cases was mirrored by a decrease of eight in overall hospital cases, with daily deaths now falling UK-wide.
A new paper titled "Test, Trace, Isolate, Support" will be published by the Scottish Government today setting out plans for mass expansion of testing across Scotland in time for the lifting of lockdown. Any new cases that emerge would then quickly have their contacts traced and "isolated" to avoid further spread in the community.
Ms Sturgeon said: "Physical distancing has helped to reduce the prevalence of the virus and cut the number of people in serious condition in our hospitals. However, as and when we make changes to the current lockdown restrictions alternative measures will need to be in place.
"Test, trace, isolate and support will be one of a number of actions we will have to put in place to maintain suppression of the virus, to interrupt chains of infection and disrupt the spread and will require the support of everyone in our society to be effective."
But Linda Bauld, professor of public health at the University of Edinburgh, warned more urgency is now needed across the UK in recruiting staff who will lead this approach.
"We have been slow," she said. "Questions are being asked about why we didn't build up our capacity over the last six weeks intensively, for example, so that we would be in a place now when government – the Scottish Government and UK government – start to announce gradual easing of lockdown to ramp up contact tracing.
"I was doing a trawl yesterday just to see what was happening and you could see adverts in England for contact tracing staff. That's clinical staff that will supervise them and non-clinical staff who can be trained very easily to follow up people by phone.
"I've not see those ads in Scotland, but I am aware that it is a national and local response. So it will be Public Health Scotland and the health protection directorate leading at the national level and then the health boards having local responsibility.
"But we need to increase numbers quickly so we're ready to go."
The paper being published today is aimed at informing the public of the steps they will have to take, and the central role of the public in ensuring the success of such a system.
Ministers insist it is just one of a number of steps that will be required to maintain suppression of the virus in the months ahead alongside physical distancing, and hand and respiratory hygiene.
Prof Bauld also said international travel is likely to be "strongly discouraged" until the autumn but said clear guidance is needed on whether safe travel within the UK will be possible.
She said: "Would people be able to drive to actually physically see their relatives, in the summer months, when the weather for not all but most of the UK should be reasonable and that contact can be outdoors?
"That's the kind of discussion government needs to be having with the population so we can re-establish some of that contact."
There have been 12 new deaths in Scotland the latest figures have revealed, although this is likely to be artificially low as weekend registrations are usually lower.
Health secretary Jeane Freeman announced that 12,097 people have now tested positive for the virus in Scotland, a rise of 170 from 11,927 the day before, at the Scottish Government's press briefing.
There are 1,666 people in hospital with confirmed or suspected Covid-19. Of these patients, 99 patients were in intensive care, down nine.
Comments
 0 comments
Want to join the conversation? Please or to comment on this article.