The poll, by Savanta ComRes for The Scotsman, shows the SNP on 64 MSPs, one short of a majority, and Alba Party returning no MSPs with three per cent of the list vote.
However, the election on May 6 would return a pro-independence majority of 74 MSPs with 10 Scottish Green MSPs also predicted to be elected.
The survey interviewed 1,007 Scottish adults aged 16 or above between April 2 and 7, 2021.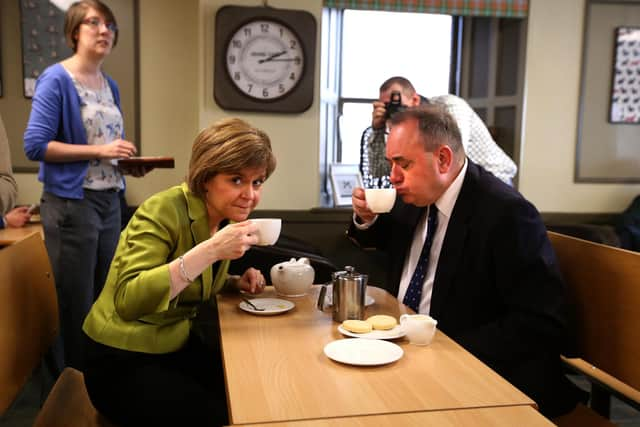 Support for independence is also on a knife-edge with 45 per cent of voters saying they would vote Yes and No if a second Scottish independence referendum was held tomorrow, with nine per cent of voters still undecided.
With don't knows excluded, support for independence and the union is neck and neck with both on 50 per cent.
Should the results following the election in May match the poll, the SNP would return a constituency vote of 49 per cent (up one point from March) and a list vote of 40 per cent (no change from March).
This would lead to a return of 64 MSPs with two fewer than in 2016 coming from the regional list.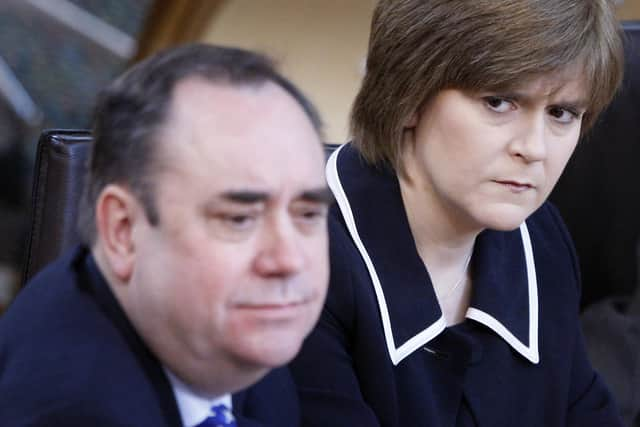 Alba's attempts to gain any MSPs would also fall short with their regional list vote at 3 per cent, with the majority of their support coming from SNP voters.
Although the sample size of Alba voters is extremely small, around 6 per cent of SNP voters in 2016 said they would back Mr Salmond's party in May.
That drops to 4 per cent of 2021 planned SNP voters who say they will vote for the SNP in this election on the constituency, followed by Alba on the list.
If all of Alba's voters moved back to the SNP, Ms Sturgeon's party would return a majority of three MSPs with an enhanced overall number of pro-independence MSPs when combined with the Scottish Greens instead of narrowly missing out on a majority.
The poll also shows the Scottish Conservatives are set to lose six seats under the leadership of Douglas Ross with a constituency vote of 23 per cent (no change) and a list vote of 21 per cent (down three points), with the party predicted to return 25 MSPs.
Anas Sarwar's Scottish Labour have also seen a small drop in the constituency vote, down two points to 18 per cent, but the party's support in the regional list has stayed static at 18 per cent with a return of 23 MSPs, down one from 2016.
The Scottish Greens are the main winners when compared to 2016's results with their regional list vote share of 9 per cent, down one point from March, returning a record ten MSPs.
The Scottish Liberal Democrats are also set to gain one seat and return seven MSPs with six per cent of the constituency vote (down two points) and seven per cent of the list vote (up one point).
All for Unity, George Galloway's unionist party was not prompted by Savanta ComRes, with three per cent of voters backing 'other parties'.
The scale of the challenge for Alba to gain ground in this election is underlined by the fact Mr Salmond is the most unpopular politician in Scotland.
The poll shows, with the former first minister returning a net 'favourability' rating of -51 per cent, 23 points lower than Boris Johnson (-28 per cent, up two points) and more than 70 points behind Ms Sturgeon on +20 per cent, up three points compared to March.
Two thirds of Scots also believe the former SNP leader to be untrustworthy (67 per cent), dishonest (65 per cent) and disingenuous (66 per cent), though almost half (47 per cent) believe he is intelligent.
Overall, almost two thirds (63 per cent) of Scottish voters believe Mr Salmond to be unfit for public office, with fewer than one in five (19 per cent) stating he is fit to be an MSP and 18 per cent stating they did not know.
Voters planning to vote Scottish Conservative were the most likely to say Mr Salmond is fit for public office with one in five (19 per cent) of Tory voters stating he is fit for office, followed by a similar number of SNP voters (17 per cent).
However, more than two thirds (69 per cent) of voters planning to vote SNP said they believed their party's former leader was not fit for public office.
Anas Sarwar, whose popularity continues to rise with his net favourability rating now sitting at +2 per cent, up two points from March, however has yet to see his popularity translate into electoral gains.
Simon Cereda, a senior consultant at Savanta ComRes said the emergence of the Alba Party and any SNP votes lost to it "may prove costly".
He said: "The latest data from Savanta ComRes for The Scotsman shows how tight it will be for the SNP to achieve their hoped for majority in May. Votes lost to Alex Salmond's Alba Party, even the small numbers we are picking up, may prove costly.
"Despite Alex Salmond clocking some of the worst personal ratings in UK politics, his core loyalists may yet deprive Nicola Sturgeon of Holyrood control. In addition, a strong showing from the Scottish Greens may also be a blow to the SNP's ambitions.
"Elsewhere, despite Anas Sarwar's leadership making a positive start, Scottish Labour look unlikely at present to translate that into electoral gains. Positive personal approval ratings will mean nothing to Anas Sarwar unless he can stop his party ceding ground in Holyrood."
The Scottish Government has seen a bounce in its popularity since its steep drop between February and March, up five per cent at a net favourability of +16 per cent.
Patrick Harvie, the co-leader of the Scottish Greens, has suffered a dip in popularity of four per cent and is now equal with Douglas Ross (down one point) on -11 per cent net favourability.
Willie Rennie is on -7 per cent net favourability, also down one per cent, with Lorna Slater, the Scottish Greens co-leader, up one point on -5 per cent.
The number of Scots who want to see a referendum within the next two years has seen a small rise when compared to previous polls, with 38 per cent of Scots believing it should take place within two years and 53 per cent believing it should take place within the next five years or sooner.
However, more than one in five (22 per cent) of Scots never want another independence referendum, with one in nine saying it should take place in more than ten years.