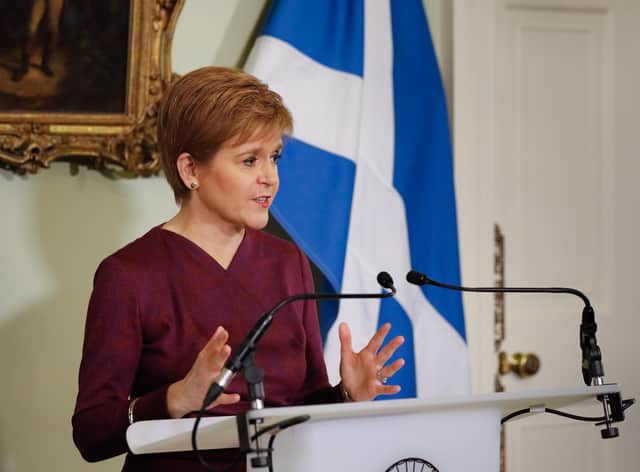 Nicola Sturgeon updated MSPs at Holyrood today on Coronavirus latest
The number of cases north of the border has also risen to 584, the First Minister said in a statement at Holyrood, an increase of 85.
Ms Sturgeon said the numbers were likely to be an underestimate.
It comes after new hardline measures were introduced to slow down the spread of the virus north of the border.
"Effectively Scotland is now in lockdown," Ms Sturgeon said in the statement.
"People have been told they must stay at home. We've now set more stringent limits to that."
Shopping and exercise once a day are permitted, as well getting medicines, the First Minister told MSPs well as travelling to essential work.
"The overall message is very clear, people must stay at home," the First Minister said.
She went on to set out set which businesses should be shutting their doors during the outbreak.
"It is employers that should be making these decisions. It should not be up to employees to anguish whether or not they should be going into work."
Pubs, restaurants, cafes, cinemas and gyms have already been told to close by the SNP leader.
A list of essential and non-essential retailers has also been published, with the latter now required to close. It is now being updated to include firms which are critical for "civil contingencies" such as steel works which can continue with the minimum required staff.
But Ms Sturgeon admitted some firms would not "fit neatly" into this advice, such as manufacturers and food producers.
"If you're staff can work from home then that's what you should allow them to do," Ms Sturgeon said.
"If your staff cannot work from home, you should be asking yourself if your business is contributing something right now which is essential to the fight against Coronavirus. For example, making medical supplies or manufacturing essential items. Or is it contributing something essential to the well-being of the nation, like food supplies
"If it is, we want you to keep going if possible. The question you must ask yourself is can you operate your business in line with safe social distancing practice and of course, the normal health and safety requirements.
"If you cannot answer yes to those questions, then in our view you should not continue to be open."