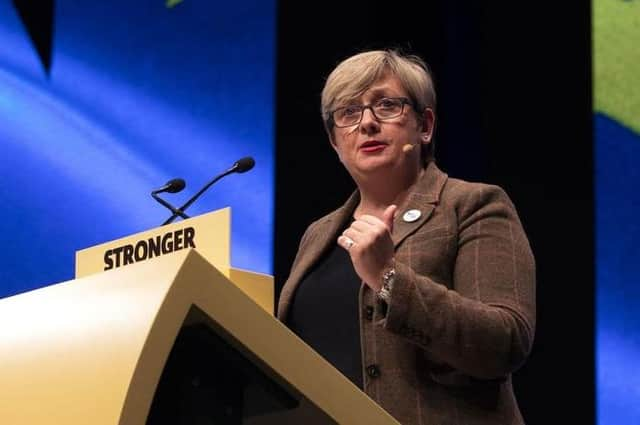 Joanna Cherry has warned that Scots could face a "very long wait" for Prime Minister Boris Johnson to agree to a repeat of the 2014 vote on leaving the UK, even if a pro-independence majority is returned in next May's Holyrood election.
Ms Cherry, the MP for Edinburgh South West, said the Scottish Government should move to publish its revised prospectus for independence, as plans for the economy, trade and EU relations will come under increasing focus.
Her declaration came as Ms Sturgeon said this week she would like to see a referendum on independence staged in the early part of the next Parliament.
Ms Cherry spoke out on the eve of the SNP conference this weekend, as she delivered the Cardiff lecture where she said constitutional change now looms north of the Border.
"Scotland most certainly does not stand where she did – she is not so much at a crossroads as on a highway to independence," she said.
Constitutional issues are widely seen as "reserved" with authority lying at Westminster.
Mr Johnson has so far ruled out the transfer of power, through a Section 30 order, which would be required to allow a referendum.
Ms Sturgeon said she believed the pressure on the Prime Minister would become "irresistible" if a pro-independence majority was returned after next year's election.
But Ms Cherry said: "What worries me is that if we are waiting on good will and largesse from Boris Johnson it could be a very long wait."
Academics have previously disputed whether Holyrood may have the power to grant a referendum on independence, and Aidan O'Neill QC has an argument before the Court of Session on the issue.
The MP cited a speech from Ms Sturgeon on Brexit Day where the First Minister said she was not "ruling out" bringing forward a referendum on independence, then testing it in court.
If a court ruled this legal, it could not be portrayed as a "wildcat referendum", the First Minister said.
And Ms Cherry added: "It is my view that if the pro-independence referendum parties obtain a majority at the Scottish election next year and the PM refuses to come to the table to negotiate a second Edinburgh Agreement, the avenue which the FM contemplated earlier this year should be pursued.
"It would require a carefully crafted bill to be piloted through Holyrood.
"Then, when the inevitable legal challenge came, it would be for the courts to decide whether the bill passed was within the competence of the Scottish Parliament and, thus, whether the referendum so authorised could proceed.
"They would do so by a process of statutory interpretation. The case would undoubtedly end up in the UK Supreme Court.
"If they found the bill to be within competence, then we would have a lawful referendum. And one which would be hard for unionists to boycott."
A message from the Editor:Thank you for reading this article. We're more reliant on your support than ever as the shift in consumer habits brought about by Coronavirus impacts our advertisers.
If you haven't already, please consider supporting our trusted, fact-checked journalism by taking out a digital subscription.