Live

Covid Scotland LIVE: Nicola Sturgeon says UK must not 'sleepwalk' into an Omicron emergency
Nicola Sturgeon is to give an update on the Covid/Omicron situation to the Scottish Parliament.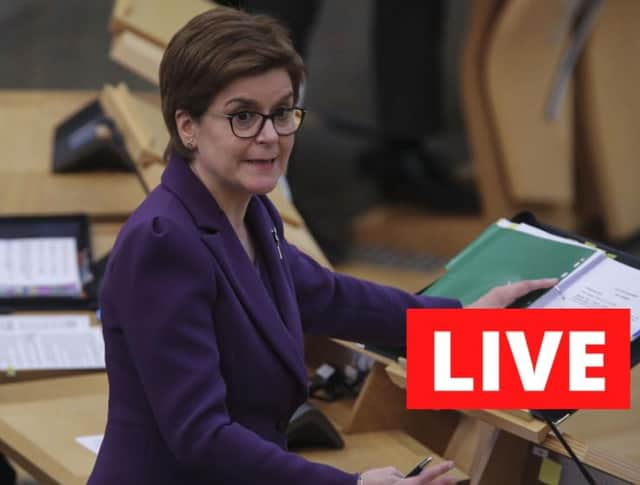 Nicola Sturgeon is giving an update
You can follow the updates in our live blog right now.
FMQs LIVE: Nicola Sturgeon to give an update on Omicron in Scotland
Last updated: Thursday, 16 December, 2021, 17:39
Show new updates
Rishi Sunak is cutting short a trip to the United States for crisis talks with business chiefs as the spread of Omicron and health warnings wreaked havoc on hard-hit pubs and restaurants.
The Chancellor has been criticised for going on the trip as the coronavirus variant's spread led to a wave of cancelled bookings and falling takings across the hospitality sector.
UKHospitality boss Kate Nicholls and pub chiefs have made a plea for business rates relief and VAT discounts to be extended, warning that the sector has been knocked harder than expected by the new restrictions.
Ms Nicholls said hospitality sales have already plunged by more than a third over the past 10 days with £2 billion of trade already lost in December.
Chancellor Rishi Sunak will be returning early from his trip to California to hold more talks with business chiefs in response to the Omicron crisis on Friday.
The Chancellor and his team held talks with a range of hospitality and business organisations on Thursday.
Mr Sunak said: "This Government has done whatever it takes at every stage to support lives and livelihoods throughout this pandemic – and of course we will continue to do so.
"We understand that this is a concerning time for businesses. Myself and my wider team met with business representatives earlier today, listened to their concerns and will continue to work with industry leaders over the coming days.
"To keep safeguarding our economic recovery and the lives and livelihoods of the British people our priority is now to make sure everyone has the opportunity to get boosted now."
The Government said a further 146 people had died within 28 days of testing positive for Covid-19.
Separate figures published by the Office for National Statistics show there have now been 172,000 deaths registered in the UK where Covid-19 was mentioned on the death certificate.
A total of 51,360,987 first doses of Covid-19 vaccine had been delivered in the UK by December 15, Government figures show. This is a rise of 28,067 on the previous day.
Some 46,881,291 second doses have been delivered, an increase of 38,794.
A combined total of 25,477,345 booster and third doses have also been given, a day-on-day rise of 745,183.
Separate totals for booster and third doses are not available.
A further 88,376 lab-confirmed Covid-19 cases have been recorded in the UK as of 9am on Thursday, the highest daily total recorded since the pandemic began and almost 10,000 more than the previous record set on Wednesday.
In response to travel restrictions introduced by France, a spokeswoman for cross-Channel rail operator Eurostar said: "Our immediate focus is looking after our customers, who are once again facing disruption during the Christmas travel period.
"For those who need to change their plans, we are offering a fee-free exchange or e-voucher.
"We understand and fully support the need for governments to tighten travel restrictions in the interests of public health, to help contain the virus as new variants emerge, and we are advising our passengers accordingly.
Ms Sturgeon warned: "If left unchecked, Omicron will deliver a significant economic shock that will see lack of staff and pressure on already stressed supply chains lead directly to business failure."
Coronavirus restrictions in some sectors may be "unavoidable" due to the sharp rise in Omicron cases, Nicola Sturgeon has told the Prime Minister.
She warned: "The sheer number of people likely to be infected in the period ahead risks overwhelming the NHS and disabling the economy and other critical services."
Ms Sturgeon has already appealed to Scots to restrict their contact with others, recommending meet-ups should be limited to no more than three households.
Businesses will be asked to use judgement to ensure their premises are not crowded and avoid unnecessary interaction between customers and staff under new rules issued on Thursday.
The regulations for Scotland's businesses are a bid to combat the spread of the virus and have come amid criticism that firms were given less than 24 hours to implement changes.
A ban on UK tourists entering France has been described as a "hammer blow" by travel firms.
French Prime Minister Jean Castex announced tough restrictions will be enforced from Saturday, including a requirement for "compelling reasons" to travel to or from the UK.
Trips for tourism or business will not be permitted, his office said in a statement.