The First Minister sought to downplay a leaked document from SNP-run Glasgow City Council after it was raised during First Minister's Questions [FMQs] on Thursday. Scottish Conservative leader Douglas Ross said she should be "embarrassed, if not disgraced" by the reports.
Glasgow is reportedly considering shutting primary schools early on Fridays in a bid to save £51 million from its education budget. Teaching unions said they were "desperately worried" about the proposals, warning they would have a detrimental impact on young people.
The city is facing a £68m shortfall for the year ahead and will set its budget next month. Documents say £22.5m could be saved by revising the way primary and secondary schools are staffed, the Daily Record reported. This would affect pupil-teacher ratios and lead to many more composite classes, with 397 teaching posts affected.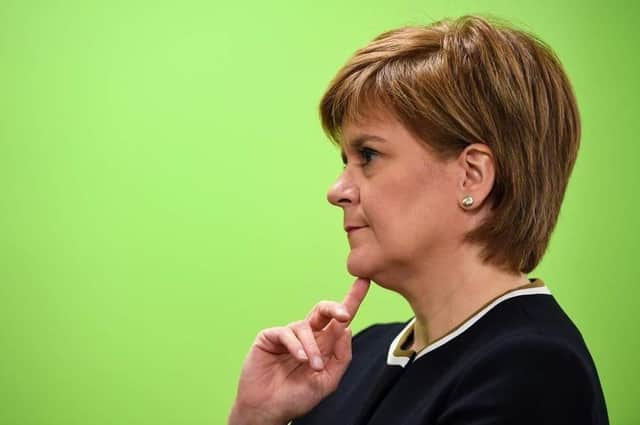 A proposal to cut the number of teachers by closing schools early on Fridays, affecting 324 roles, would save £18.5m. If all the options for cuts came into force, around 800 teaching posts would be at risk, as would the roles of more than 100 "support for learning" staff.
Speaking at FMQs, Ms Sturgeon said: "This, of course, is that time of year when we get lots of reports about savings options that different councils are considering and opposition parties – quite understandably – make hay with that, but very often these proposals do not proceed. I think the official report of Parliament will be littered with examples of what I've just spoken about.
"In terms of these particular proposals, I've not seen the detail of these. Councils, of course, are autonomous in their areas of responsibility, something that parties across this chamber often call on the Scottish Government to respect. But as my record shows and indeed as Government's funding to councils demonstrates, I am in favour of more teachers, not fewer teachers."
Ms Sturgeon said the Scottish Government had provided £145m of additional funding to councils in this financial year to employ up to 2,400 more teachers and 500 more classroom assistants. She said this funding was being protected in the next financial year.
The First Minister also said the Government had provided a real terms increase of £160m for local government in the Budget. She said the overall teacher-pupil ratio in Scotland was the lowest in the UK, and she was "proud" to stand on the SNP's record.
Mr Ross said he was "deeply worried that one of the biggest councils in Scotland is considering 800 teachers being lost". He said: "Nicola Sturgeon is proud to see SNP councils considering cutting teacher numbers. You're proud of that, First Minister? You should be embarrassed, if not disgraced."
He said the First Minister's record was 900 fewer teachers in 2022 compared to when the SNP took office in 2007.
Council umbrella body Cosla has warned services could be "at breaking point" and suggested the cash increase from the Scottish Government could be just £71m as a result of ring-fencing.
Susan Quinn, Glasgow local association secretary of the EIS teaching union, warned the proposals would have a detrimental impact on young people's life chances.
She said: "We are desperately worried about the impact of cuts on the ability of teaching staff in the city to deliver for the most vulnerable of young people. Eight hundred jobs is about 12 per cent of the teachers in a city where young people already have some of the highest challenges to overcome to progress in their lives."
She went on to say the changes being considered to primary schools "beggars belief", adding it "makes no sense" and would impact on the ability of teachers to deliver for pupils.
Seamus Searson, general secretary of the Scottish Secondary Teachers' Association union, said young people needed more support, not less, as they deal with the impact of the pandemic on their education.
He said: "If you start cutting back the number of teachers, you are really damaging education. After the pandemic we are still in the stage of recovery and a lot of youngsters have missed out on basic learning coming through. If you cut teachers, you are cutting young people's life chances down."
A Glasgow City Council spokeswoman said: "As part of the annual budget-setting process, a cross-party group of councillors works with officers to scrutinise and develop options on where savings and investment could be considered.
"Officers also regularly update a financial forecast, taking into account inflation and the latest information on national settlements.
"The financial challenge facing the council this year is exceptionally tough, with savings of around £68m required, even before pressure on social work and care services are taken into account.
"Political groups will present their budget proposals next month and it is for them to decide whether they wish to include any of these options."
Fears over the teacher posts come as Ms Sturgeon said she wanted to increase pay in the social care sector in a "properly funded way", labelling Labour's proposals on the issue "incoherent".
At FMQs, Anas Sarwar urged the Scottish Government to improve the pay for those working in social care. He said the recent pay increase amounted to 3.8 per cent – about 40p an hour – which is "nowhere near enough".
The Scottish Labour leader said: "Forty pence more in the midst of a cost-of-living crisis doesn't feel like much of an award to these workers and is not going to address the ongoing workforce crisis." Mr Sarwar called for pay to immediately increase to £12 an hour, and then to £15.
Ms Sturgeon said her Government intended to increase pay further, but Labour's proposals would cost an additional £1.75 billion. The First Minister said: "Labour haven't set out what they propose to cut as a consequence.