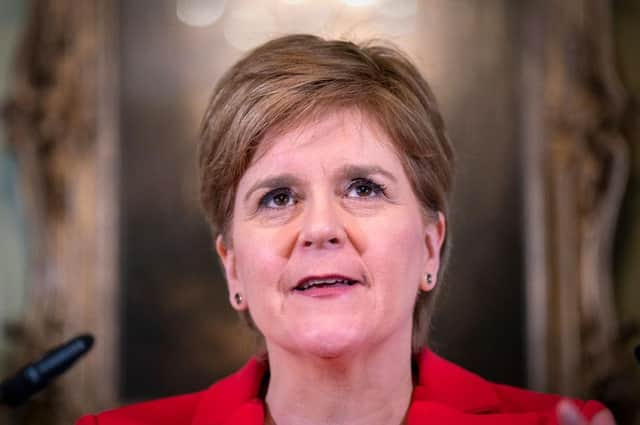 The decision few had anticipated made global news as Sturgeon confirmed her departure from the post after eight years at the helm and, naturally, the Scottish public reacted in their droves to news. Some celebrated and others mourned.
We asked our readers what their thoughts were on her decision to step down as First Minister via our social media accounts and a Twitter poll that posed the question 'is it the right time for Nicola Sturgeon to resign?' – and there were strong opinions on both sides of the debate in a tight vote that ended 58.7 per cent in favour of 'yes' and 41.3 percent no.
"Whoever takes over has large shoes to step into"
Our reader Helen Flucker praised the First Minister by saying: "She was streaks ahead of any other politician and very respected" while she felt Ms. Sturgeon was instrumental in a second independence vote being "kept alive". She argued that the "SNP party is as strong today as it was a decade ago" and said "whoever takes over has large shoes to step into" following the resignation of the SNP leader.
Tom Johnson said he thought "Nicola was aware enough to know she'd become a caricature" and "was no longer the best person to lead Scotland to Independence".
He cited the decision as "to her credit" and he believed "thanks to the integrity of the First Minister and her selfless ambition for Scotland" that "the future is bright and a new push towards Independence starts now".
Rebecca Tilney added she thought the outgoing SNP leader was "better than some of the Westminster politicians".
Our reader Charles Dernie was balanced in his view but echoed thoughts that she would be "a hard act to follow" and while admitting he was "not a fan of hers or her government", he praised the SNP leader by citing she was "an excellent communicator - see lockdown" but admitted "her actions didn't match up to her rhetoric."
"Incompetent dismal failure"
However, not everyone was quite as complimentary to the outgoing First Minister, with one reader saying she "ignored the electorate" since taking the helm and was "failing on the majority of her promises". This was echoed by Caroline Santos who claimed she had to resign "before she damaged Scotland any further" though she added her replacement "will be just as damaging" for the country.
Daul Henri said the decision had come to late, as he said "she should of gone years ago" – a claim echoed by readers Stephen Mclellan and Linda Watson who commented that she was an "incompetent dismal failure" and had resigned "seven years too late".
While reader Jim Nicol also felt her resignation had come too late when he commented she "should have resigned after her decision to move elderly patients from hospitals to care homes at the start of the pandemic".
Some readers felt the decision was not hers alone though, with Isla McGregor claiming "If she didn't go she would have been ousted" before commenting that Ms. Sturgeon "has ignored women and it has come at a high cost" before finally claiming that "men's rights activists should not have had the power over Scotland's First Minister". Another reader, John Morton, said he "somewhat suspects the decision was made for her".
Twitter user said @tombobc said: "She would probably have been pushed at the special conference due to the GRR fiasco. We need education not indoctrination."
One Twitter user felt the decision for her to stand down will change little though as he posted "I don't think it'll matter all that much. It might even be a good thing. People will still vote SNP since who else are we supposed to vote for? The Greens?".
Another simply said it was the right time for her to resign if "she feels she needs to" and wished her well by adding "#ThankYouNicola and all the very best".