Nicola Sturgeon resignation: What the First Minister said and what she meant during her resignation speech
Nicola Sturgeon's speech was 2,785 words and lasted around 17 minutes, but what exactly did the SNP leader say, and what did it mean?
Speaking in Bute House, the First Minister announced she would resign after the SNP picked a new leader in an announcement that shocked the political world. Her successor is set to be chosen by the SNP leadership, though her resignation represents the end of the Sturgeon era.
Here we analyse what she said in the speech and what it means in the wider context of her resignation.
"I have believed that part of serving well would be to know – almost instinctively – when the time is right to make way for someone else."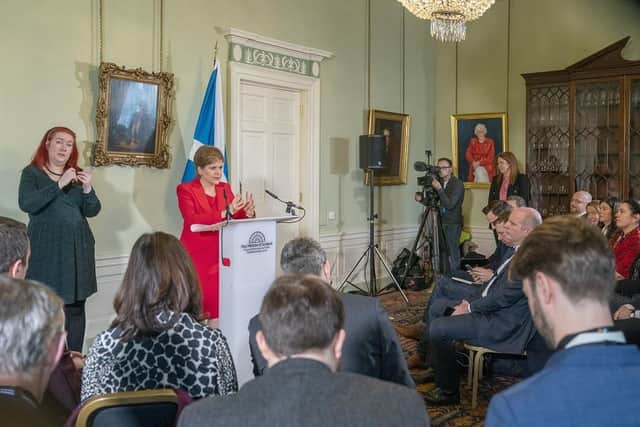 Nicola Sturgeon has faced increased speculation about her future, particularly following the Alex Salmond inquiry in 2021 and how close she came to resigning then. Recent interviews have also seen her discuss life after politics, most notably in an interview with Vogue magazine in late 2021.
It is clear the question of her future had begun to weigh heavily, and while the announcement of her resignation was a surprise, it has been when, not if, since the last Holyrood election. It is possible the First Minister saw an opportunity to emulate former New Zealand prime minister Jacinda Ardern, another major female political figure, who resigned less than a month ago in similar surprising circumstances.
The resignations have several similarities, both the months of self-reflection, the appeal to politician's humanity, and simply the lack of any more in the tank. This quote is also a swipe at leaders who failed to go when their time was up, including, most likely former prime ministers Boris Johnson and Liz Truss.
"My decision comes from a place of duty and of love. Tough love perhaps – but love nevertheless, for my party and above all for the country."
"To achieve that [independence], we must reach across the divide in Scottish politics. And my judgment now is that a new leader will be better able to do this."
One of the recurring themes through the SNP leader's speech was both her political career representing one of electoral dominance, but also of it existing as politics, and particularly Scottish politics, collapsed into division and polarisation.
There is no doubt Ms Sturgeon is a polarising politician. She is equally hated and loved by opponents and supporters alike, and while her leadership with Covid-19 demonstrated an ability to cross the constitutional divide, ultimately her sheer length of time in office began to become a drag on independence and SNP support.
Opinions are hard to shift, harder to shift still when personalities are involved. That is what Ms Sturgeon blames for the lack of movement on the independence question.
The "tough love" line is directed at her party, one that will question 'why now'. But, if it frees itself of the policy decisions of the First Minister – particularly on a de-facto referendum – one that has the opportunity to reinvent itself outside of Ms Sturgeon's shadow.
And one that can reach across that constitutional divide and convince voters that independence is the right choice for Scotland.
"So if this was just a question of my ability – or my resilience – to get through the latest period of pressure, I wouldn't be standing here today."
If you believe the First Minister, recent damaging controversies – the bruising experience of passing the Gender Recognition Reform legislation, the Isla Bryson fallout, and the Supreme Court defeat – have nothing to do with her decision to resign. However, she also states the decision crystallised in recent weeks, even if allies state the first conversations on her future go back months.
Ms Sturgeon's resilience is without question. The Salmond Inquiry and Covid-19 were much more energy-sapping experiences than the past few months.
But it would not be credible if recent weeks of vicious, targeted, fierce fury did not have an impact on the timing.
"Now to be clear, I am not expecting violins, but I am a human being as well as a politician. The nature and form of modern political discourse means there is a much greater intensity – dare I say it, brutality – to life as a politician than in years gone by."
The word "human" was repeated extensively by the First Minister during her speech as she sought to demonstrate the impact of leading a government as social media deepened and fuelled polarisation. It was an unashamed appeal for a kinder politics, one driven by robust debate on issues rather than, as she claimed, responses driven by personalities.
Opponents, however, will chuckle at the suggestion. Unionists will point at independence campaigns as the main source of division in Scotland and political opponents will simply tell people to read Ms Sturgeon's own speeches. There will be limited sympathy here, but the point is a valid one that is likely to be ignored.
"By making my decision clear now, I free the SNP to choose the path it believes to be the right one, without worrying about the perceived implications for my leadership – and in the knowledge that a new leader will steer us on that path."
The decision to resign prior to the SNP's 'special democracy conference' is arguably the most important aspect of the announcement. SNP figures have suggested privately the leadership, while publicly backing the 'de-facto referendum' strategy, have been looking for a way out of what was rapidly appearing like a political cul-de-sac.
Ms Sturgeon's resignation provides that route out. She is right to say whatever her preference is will be backed by members at that conference. That is likely still the case. The problem is that not even she believes it will work.
A new leader will also find it exceptionally difficult to back a strategy they may not agree with. A 'de-facto' referendum is years of commitment, and a new leader will want their fingerprints, not Ms Sturgeon's, on what happens next.
Many have asked 'why now?'. The answer may be to allow the SNP the opportunity of climbing down from the strategic ledge.
Want to hear more from The Scotsman's politics team? Check out the latest episode of our political podcast, The Steamie.
Comments
 0 comments
Want to join the conversation? Please or to comment on this article.