Nicola Sturgeon protests her innocence after being arrested and released without charge in SNP finance probe
The former First Minister said her arrest was "both a shock and deeply distressing".
Nicola Sturgeon insisted "beyond doubt" she was "innocent of any wrongdoing" after being arrested by police as part of the investigation into the SNP's finances.
After a seven hour interview with police, the former First Minister was released from custody on Sunday evening, pending further investigations. She released a statement soon after insisting she was innocent and said the ordeal was "deeply distressing".
Opposition politicians, and one SNP MP, demanded that First Minister Humza Yousaf suspend her from the party while the investigation continues.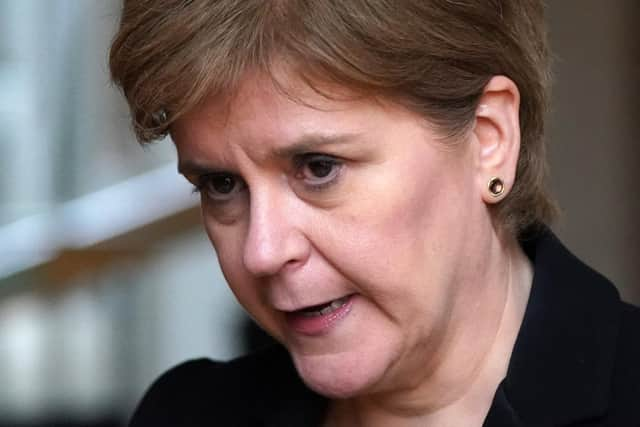 Police confirmed Ms Sturgeon had been taken into custody on Sunday morning, after she "voluntarily" attended an interview.
In her statement last night, Ms Sturgeon said: "To find myself in the situation I did today when I am certain I have committed no offence is both a shock and deeply distressing.
"I know that this ongoing investigation is difficult for people, and I am grateful that so many continue to show faith in me and appreciate that I would never do anything to harm either the SNP or the country.
"Obviously, given the nature of this process, I cannot go into detail.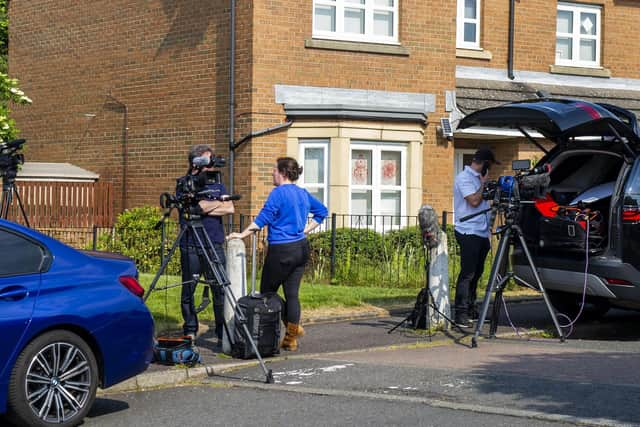 "However, I do wish to say this, and to do so in the strongest possible terms. Innocence is not just a presumption I am entitled to in law. I know beyond doubt that I am in fact innocent of any wrongdoing."
The Glasgow Southside MSP also thanked those who had shared their support, and insisted she would soon return to Holyrood.
She said: "To the many people who have sent messages of support over these past difficult weeks — including since today's news broke — thank you for your kindness.
"Thank you also to my close circle of family and friends who are giving me much-needed strength at this time. Finally, while I will take a day or two to process this latest development, I intend to be back in Parliament soon where I will continue to represent my Glasgow Southside constituents to the very best of my ability."
Ms Sturgeon had been taken into custody as 10.09am Sunday morning, and released at 5.24pm.
A police spokesman said a report would be sent to the Crown Office and Procurator Fiscal Service and that the force was unable to comment further while the investigation was ongoing.
An SNP spokesperson added: "These issues are subject to a live police investigation. The SNP have been cooperating fully with this investigation and will continue to do so however it is not appropriate to publicly address any issues while that investigation is ongoing."
The former First Minister's arrest comes after her husband Peter Murrell was arrested in April. Mr Murrell and MSP Colin Beattie, who was SNP treasurer at the time, were both released without charge pending further inquiry.
As well as the arrests, searches were carried out at a number of properties, including Mr Murrell and Ms Sturgeon's home – where a police tent was erected in the garden – and SNP headquarters in Edinburgh.
A luxury £100,000 motorhome was also seized from outside the home of Mr Murrell's mother in Dunfermline, Fife.
Ms Sturgeon previously said probe into the SNP's finances that resulted in the arrest of her husband had been "unexpected and unwelcome".
She announced her resignation as first minister in February this year, saying it was not related to short-term pressures but because she knew in her "head and heart" the time was right to go.
Her husband stepped down as party chief executive during the leadership contest that followed.
Following the investigation, the SNP's governing body, the national executive committee, agreed that a review of transparency and governance in the party should take place.
The investigation – dubbed Operation Branchform – began in 2021, and centres on the whereabouts of £600,000 of funding that had been earmarked for a second independence vote.
SNP MP Angus MacNeil called for the Former Minister to be suspended.
He tweeted: "This soap-opera has gone far enough, Nicola Sturgeon suspended others from the SNP for an awful lot less!
"Time for political distance until the investigation ends either way."
Labour labelled the arrest a "concerning development" and claimed it spoke to a culture within the SNP.
Shadow Secretary of State for Scotland Ian Murray MP said: "This is a deeply concerning development and the Police Scotland investigation must be allowed to proceed without interference.
"For too long, a culture of secrecy and cover-up has been allowed to fester at the heart of the SNP.
"The same culture that leads to police tents in front gardens created the deeply dysfunctional government that is currently failing Scots.
"Humza Yousaf must urgently come clean on what he knows - the people of Scotland deserve answers."
The Scottish Tories claimed the SNP were "engulfed in murkiness and chaos".
Scottish Conservative Chairman Craig Hoy MSP, said: "Nicola Sturgeon and other senior SNP figures – including Humza Yousaf – must cooperate fully with this police investigation and commit to full transparency surrounding it.
"Humza Yousaf must now show some leadership and suspend his predecessor from the SNP.
"The SNP set that precedent when politicians such as Michelle Thomson and Natalie McGarry were under investigation and must do so again here.
"This extremely serious matter is continuing to escalate and the result is that the SNP are totally distracted at the worst possible time. This is the time they should be focused on the real priorities facing the people of Scotland, such as the cost-of-living crisis, fixing our NHS and strengthening our economy."
Scottish Liberal Democrat leader Alex Cole-Hamilton insisted his party would not comment because it was a live police investigation, but added today's events will have "huge ramifications both for the SNP and the future of Scottish politics."
Under the Criminal Justice (Scotland) Act 2016, police can release a suspect for further investigation, but they can be re-arrested at a later date.