Nicola Sturgeon probe to cover 'any aspect' of ministerial code breaches over Alex Salmond
An independent inquiry into whether Nicola Sturgeon broke the ministerial code over statements about harassment claims involving Alex Salmond can look at "any aspect" of potential breaches.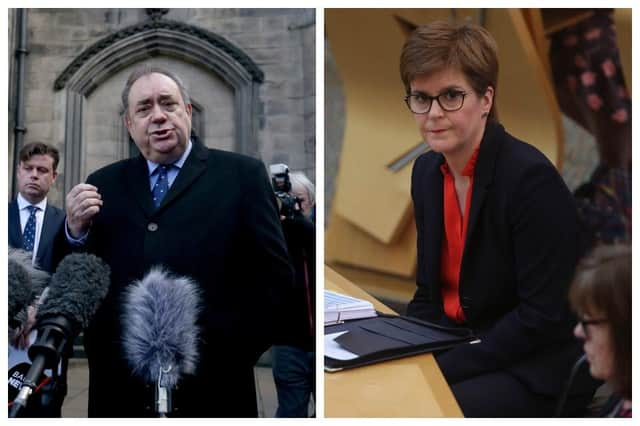 John Swinney has defended First Minister Nicola Sturgeon following bombshell allegations in evidence submitted by former first minister Alex Salmond
Deputy First Minister John Swinney said on Sunday he had agreed to a widened remit for the inquiry months ago in response to calls from the former first minister.
He also hit out at the "absolute nonsense" surrounding the claims that Ms Sturgeon had misled Parliament over the information she provided about her contacts with Mr Salmond after the harassment claims emerged.
Deputy First Minister John Swinney
It comes after a submission from Mr Salmond to the independent probe led by the former head of the Irish prosecution service, James Hamilton QC, emerged on Friday.
In it, Mr Salmond accuses his successor of misleading Parliament, calling evidence she gave to a separate inquiry by MSPs into the handling of sexual harassment claims against him "simply untrue".
This has all been rejected by Ms Sturgeon.
But Mr Salmond suggested the remit of Mr Hamilton's inquiry should be expanded to cover this, a call backed by the Scottish Tories, amid claims it is too narrow.
Mr Swinney told BBC Politics Scotland on Sunday: "I'm really surprised by the line of argument from Alex Salmond and the Scottish Conservatives because it appears that they're not keeping up with events.
"I answered a Parliamentary question in November, which made clear that the James Hamilton inquiry on the ministerial code could look at any aspect of a potential breach of the ministerial code.
"So what is being demanded by Alex Salmond and the Scottish Conservatives was put in place by me in a Parliamentary answer in November.
"So I have absolutely no idea why on earth they are going on about it today."
Ms Sturgeon has rejected the suggestions put forward by Mr Salmond in his evidence.
These included claims that she failed to inform the civil service in good time of her meetings with him and that she allowed the Scottish Government to contest a civil court case against him despite having had legal advice that it was likely to collapse.
Mr Swinney said: "The First Minister will set out clearly and openly and transparently all that she's got to say on this issue and I'm confident in the points that the First Minister will put across.
"The First Minister looks forward to the opportunity to set out in detail all of the views and perspectives that she has on this issue to address some of the absolute nonsense that has been circulating about this particular issue.
"You've got to remember that we faced a difficult situation of having to investigate complaints about inappropriate behaviour, a lot of which have now been conceded by Alex Salmond in court, and that issue had to be addressed."
Tory leader Douglas Ross said the independent inquiry into breaches of the ministerial code must be rigorous
"James Hamilton QC must be able to turn over every rock to uncover the truth," he said.
"The public deserve all the answers to these serious charges.
"Anything less than fully opening the books would be a whitewash that lets the First Minister off the hook for potentially abusing the power of her office."