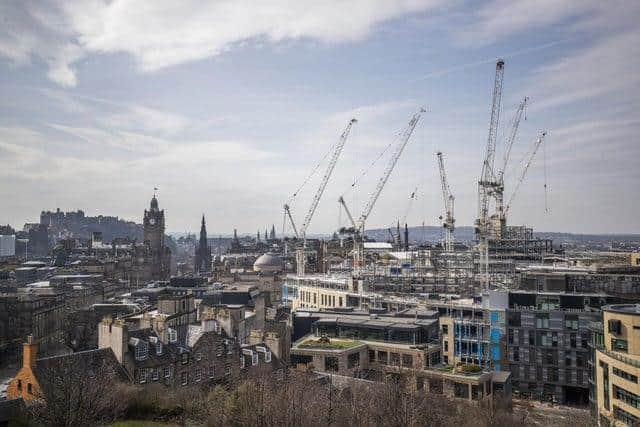 Work has stopped on Edinburgh St James' centre as a result of the construction ban
Scotland Office minister Douglas Ross says building firms have told him they can continue working safely in England while observing strict social distancing rules, but are banned from doing so in Scotland.
The First Minister has stated that unless an NHS facility is being constructed then building sites should close. London mayor Sadiq Khan backs this position, but says he has been overruled by the Prime Minister.
"Ultimately we want as many people as possible to work from home - they should do that," Mr Ross told BBC Radio Scotland's Good Morning Scotland today.
"But clearly in construction you cannot work from home. Public Health England have given guidance on how you can socially distance on a construction site to allow important work to continue."
He added: "There's a large number of things that construction is involved in and I've got companies in Scotland who are telling me they are able to continue with some of the works south of the border but they're not north of the border.
"I think the question for Nicola Sturgeon is why it is not allowed north of the border when it can be done safely south of the border."
Union chiefs have claimed that it is not practical to continue work on sites while maintaining social distancing measures, as many jobs require two labourers.
But Mr Ross stated: "This is Public Health which has given guidance which suggests that it is practical.
"I've spoken to construction firms who have operations both north and south of the border and they say they are able to do this.
"I just think Nicola Sturgeon, and we're reviewing this every three weeks, I think she will have to answer why it is possible south of the border but not north of the border and if it's possible to allow some construction north of the border as well where we follow the very strict guidance on social distancing on construction sites."