Nicola Sturgeon had 'no prior knowledge' of husband's arrest as Murrell released without charge
Peter Murrell has been released from custody without charge tonight as his wife, former First Minister Nicola Sturgeon, issued a statement saying she had 'no prior knowledge' of his arrest.
Mr Murrell, who was arrested as a suspect at 7.45am this morning, was released from custody at 6.57pm.
The police investigation into SNP party finances continues and a report will be sent to the Crown Office and Procurator Fiscal Service.
Mr Murrell's release came shortly after former first minister Nicola Sturgeon released as statement through a spokesperson.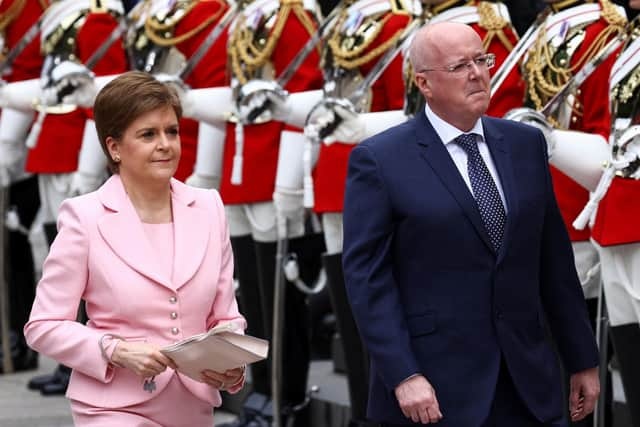 A statement said: "It would not be appropriate to comment on a live police investigation.
"Nicola Sturgeon had no prior knowledge of Police Scotland's action or intentions.
"Ms Sturgeon will fully cooperate with Police Scotland if required however at this time no such request has been made."
Mr Murrell, a former SNP chief executive, was taken into police custody in connection with an investigation into the political party's funding and finances.
Police have been seen scouring the back garden of the couple's home after his arrest with officers also entering SNP offices in Edinburgh.
Mr Murrell, who married the former party leader in 2010, stepped down as the SNP's chief executive last month following a controversy about misleading information being given to journalists over the party's membership numbers.