Nicola Sturgeon faces questions over Catherine Calderwood resignation
Dr Catherine Calderwood was right to resign from her position as the country's top medical official as public confidence in the Scottish Government's response to the coronavirus pandemic would otherwise have been at risk, Nicola Sturgeon has said.
The First Minister faced questions today over her role in the Chief Medical Officer's decision to quit late on Sunday evening, after the SNP leader had previously backed Dr Calderwood earlier in the day by insisting that while she had made a mistake, she could remain in her post.
Speaking at a media briefing in Edinburgh, Ms Sturgeon acknowledged it had been a "difficult 24 hours for the Government" after the resignation of Dr Calderwood over two trips she made to her second home in Fife - flouting her own guidance aimed at tackling Covid-19.
The First Minister said she was not aware of the first visit made by the former CMO to her second home in Fife, which she said took place last weekend.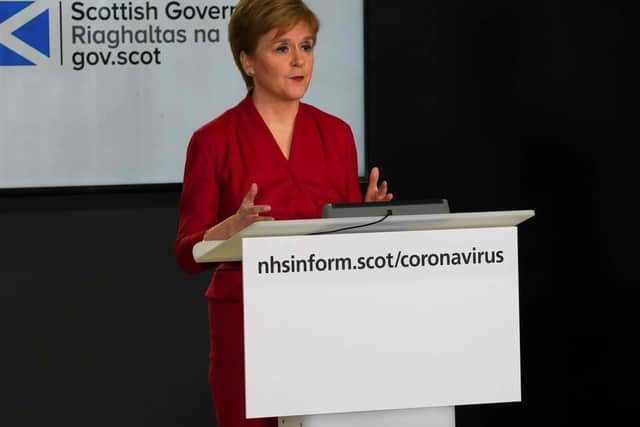 She said: "The line that was issued on Saturday night reflected the information that we had at the time, a couple of hours after the query and up against a deadline, of the reason for her visit to her house in Fife that weekend.
"She later clarified that she had been there the weekend before and she made that clear at the briefing."
The First Minister said that the reasons for Dr Calderwood's trip to the home were "not actually important", adding: "They did not give a justification for her breaching the guidance and the advice that was in place."
Ms Sturgeon said the issues facing the Scottish Government over the weekend were nothing compared to the hardship faced by those who had contracted coronavirus. and those treating them.
Asked what new information led to her accepting Dr Calerwood's resignation on Sunday evening, the SNP leader said: "It wasn't so much new information.
"It became clear to me Dr Calderwood remaining in office - and the reason I had wanted her to remain in office, if possible, was the continuity of advice - it was going to be a risk to the confidence and trust in the Government's message. That was not a risk I was prepared to take.
"That is the reason for that change in my view last night, based on an honest assessment.
"Yesterday, I was balancing two factors - both of which were important to me as First Minister in the management of this virus. Firstly, continuity of advice from a CMO who had been integral to Scotland's response.
"On the other hand, understanding, acutely, there was the importance of public confidence in the messaging. These were the things - and I am just being as open as I can here about my thought processes - that I was balancing."
The First Minister continued: "It became clear to me that as the day developed that would be a risk to the public messaging.
"These judgements are mine to take as First Minister and I stand by them. They rarely are in these situations black and white. All of us in these positions have to balance a number of things, and I try to do that in good faith and to the best of my ability."
Asked that if by standing by the CMO yesterday she had made a mistake, the First Minister said: "Other people can judge if I got it right or wrong. I'm perfectly able to deal with it. What I am seeking to do is set out the basis of my decision making."
The First Minister refused to say if Dr Calderwood, who started as CMO in 2015 on a salary of around £125,000, would receive a pay-off following her dramatic resignation on Sunday.
Comments
 0 comments
Want to join the conversation? Please or to comment on this article.