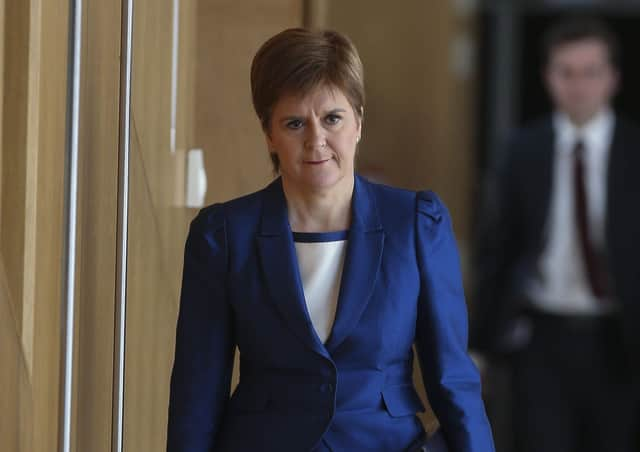 The First Minister said that routine testing was now under way for care home staff, as Scottish Conservative leader Jackson Carlaw said that every resident and worker could have been tested twice if the scheme had been implemented in April.
At yesterday's First Minister's Questions Mr Carlaw also accused the Scottish Government of "squandering" the testing capacity available, and demanded to know how many of Scotland's 50,000 care home workers had been screened since a pledge by the Health Secretary two weeks ago.
He said more than 1,350 elderly people had been sent to residential homes from hospitals without being tested for Covid-19, contributing to the "tragedy of care home deaths". Pointing to figures showing only 5,000 tests were carried out across the whole of Scotland on Tuesday, he said it was clear routine testing still was not in place, as "there would be a minimum of 7,000 tests a day" and capacity stood at 15,000.
However Ms Sturgeon said that a programme of "regular and routine care home staff testing is under way" and denied the government was failing care homes.
Her comments came after she revealed new figures from the National Records of Scotland showed more than half of all registered deaths involving Covid-19 in the last week of May occurred in care homes, at 52 per cent, though the number of care home deaths fell for a fifth week in a row, down by 56 from last week to 68.
Mr Carlaw said the figures on testing in care homes did not "add up". "Why are care homes being failed again? Surely by now mobile testing teams or GPs should have visited every care home in Scotland?
"We spoke to care home operator Renaissance Care, it has 1,150 staff who have performed heroic and selfless tasks these last three months but only 649 of them have been tested, just 56 per cent and not on a repeating basis. What's deeply worrying is that seven per cent had no symptoms of the disease but came back positive for Covid. More mistakes are unfolding right now and may yet lead to more deaths. It won't be possible to blame these deaths on hindsight."
He added: "The tragedy is Scotland has the capacity to test and if you'd used that effectively since the end of April you could have tested all the residents and staff in care homes twice. Instead that capacity is squandered, and care home workers and residents who have already endured the horror of this crisis are being let down all over again."
Ms Sturgeon rejected his suggestion that care homes were being failed and said that while care home deaths were "still too high" they were "declining quite rapidly" and that "the package of measures we're taking is having an effect".
She added: "I don't blame anything on anything, I take responsibility for the government's response to coronavirus. I've never, and never will, seek to blame anybody, but I try to ensure the public has the understanding it needs so it knows why it needs to comply with the measures. It's understandable to look at the overall number, but the dynamics underneath that number are also important because we have different strands of testing.
"The programme of care home worker testing is under way and will continue and then will be routine. Everything we do right now is to suppress the virus – it's why we're taking a cautious approach coming out of lockdown and making sure our programmes for testing are able to keep the virus suppressed."
However, Ms Sturgeon was also accused of a "consistent disconnect between parliamentary pronouncements and the reality", when it came to care home workers and testing by Richard Leonard.
Raising the case of a care worker constituent who had been refused a test, the Scottish Labour leader said this went against the First Minister's claim that they would be tested routinely even if asymptomatic. He also said NHS Lanarkshire had confirmed that it was only still "working through the operational implications" of the government's plan for routine testing.
Ms Sturgeon, said: "This is a programme which is under way and progressing and the Health Secretary will set out more details of its delivery and we will publish data from that. There are different strands of access to testing: testing through the portal and drive through centres is for people who are symptomatic; routine testing for health and care staff and non-symptomatic staff is being organised through NHS boards with public health advisers overseeing that."
She added: "Part of my responsibility, with my ministers, is to give people confidence in how we're dealing with this and to set out very clearly and candidly the steps we're taking and the challenges we face. We are seeing the number of deaths overall, and in care homes, declining significantly which says the package of measures we have in place is having an effect. We will ensure the policies we announce are delivered and the data published to allow us to be held to account. Let's not forget care home bosses have a responsibility too, working … in partnership to make sure care homes are safe."