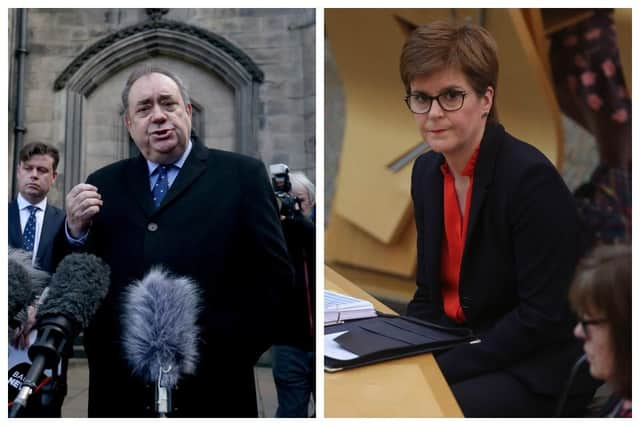 Nicola Sturgeon has said it is time for Alex Salmond to prove his allegations of conspiracy ahead of his appearance at the harassment complaints committee on Wednesday.
Speaking to the BBC and STV in broadcast interviews, Ms Sturgeon said it was time for her predecessor to "replace the insinuation and assertion" with evidence, something she believes he cannot do.
In a pre-emptive move before her former friend and ally's evidence session, the First Minister said Mr Salmond had told her "in quite gory detail" the nature of the complaints against him during a meeting in her home on April 2, 2018.
Adding that the burden of proof was on Mr Salmond, Ms Sturgeon said she was "relieved" to be giving evidence next week.
Mr Salmond is set to appear in front of the inquiry on Wednesday following a decision by the Scottish Parliament's Corporate Body to publish a revised evidence submission.
The decision followed a court challenge by The Spectator magazine on the scope of a court order around Mr Salmond's trial and after two votes to block its publication by the committee.
Ms Sturgeon is set to give her evidence to the committee next week.
She said: "This week I hope Alex Salmond will turn up to the committee and bring the claims he has been making out into the open.
"He appears to be suggesting some kind of conspiracy or concerted campaign against him without a shred of evidence.
"This is his opportunity, because the burden of proof lies with him, to replace the insinuation and assertion that we've heard over several months now with evidence.
"Now I don't believe he can do that because I know what he is claiming about a conspiracy is not true.
"But if he can't substantiate it, it is time for him to stop making these claims because it is not fair to women first and foremost who came forward with complaints or the other people who have given loyal service to Alex Salmond who he also appears to be directing those claims to."
Asked about whether she stood by her assertion to Parliament that she first came to know about the complaints during the meeting with Mr Salmond in April, Ms Sturgeon said she stood by what she said.
Pressed on whether a meeting with Geoff Aberdein, the former chief of staff to Mr Salmond, included details of the complaints, the First Minister said the meeting "never held any significance".
She said: "I stand by what I said to Parliament and I'll set out the detail of this to the committee.
"On April 2, 2018, Alex Salmond came to my house and told me in quite gory detail what he was accused of and also gave me his account of one of those incidents.
"There has since been an issue raised about a meeting I had with his former chief of staff three days earlier.
"That's a meeting that's never held any significance in my head. My recollection of that I will give to the committee, but it doesn't change what I've said to Parliament.
"I will share all of that with the committee and I relish the opportunity to do that. Many claims have been made about me that are legitimate questions that I have to answer. I am rightly and properly subjected to scrutiny."
Questioned on the suggestion her husband and SNP chief executive Peter Murrell did not know about the April 2 meeting, Ms Sturgeon said she did not share the details of the meeting.
She said: "He didn't know because he wasn't at the meeting and I didn't share the details with him. I'll get into all of this with the committee, that's for next week.
"I look forward to the opportunity. I'm not pretending it will be an enjoyable experience, but it's a welcome opportunity to set the record straight."
Admitting the Scottish Government had made mistakes in its handling of the complaints, the First Minister said it was up to other people to "make up their own minds" on her conduct, but that she would "refute the allegations that have been made against me".
Ms Sturgeon was also asked whether the development of the policy, which took place as senior civil servants were aware of potential complaints against Mr Salmond, was directed towards her predecessor. The First Minister said that was not the context of the policy.
She said: "I had a lingering suspicion because of the Sky query about Edinburgh Airport, but what I've set out to Parliament I stand by in terms of when I became aware of the specific Scottish Government complaints.
"The committee has already heard from the senior official who was charged with drawing up that policy that he actually looked at the pre-existing policies, decided there was a gap in terms of former ministers.
"The idea back then that this was about Alex Salmond rather than the global MeToo movement that everybody, organisations the world over were reviewing their policies, making sure that past deficiencies where women felt they couldn't come forward, particularly about historic complaints, that we were trying to rectify that.
"That was the context of the development of this policy, not Alex Salmond."
Asked whether Leslie Evans, the permanent secretary, still commanded her confidence, Ms Sturgeon said she expected the civil servant to remain in post until her term finishes.
She said: "Yes, I do and I think it is important that everybody involved in this has the ability to answer questions as she has done before the committee on a number of occasions."
Ms Sturgeon added: "Leslie Evans is going to be permanent secretary. Her term of office comes to an end in about a year's time or such like. My expectation is that Leslie Evans will continue until then to be permanent secretary."
A message from the Editor:
Thank you for reading this article. We're more reliant on your support than ever as the shift in consumer habits brought about by coronavirus impacts our advertisers.
If you haven't already, please consider supporting our trusted, fact-checked journalism by taking out a digital subscription.