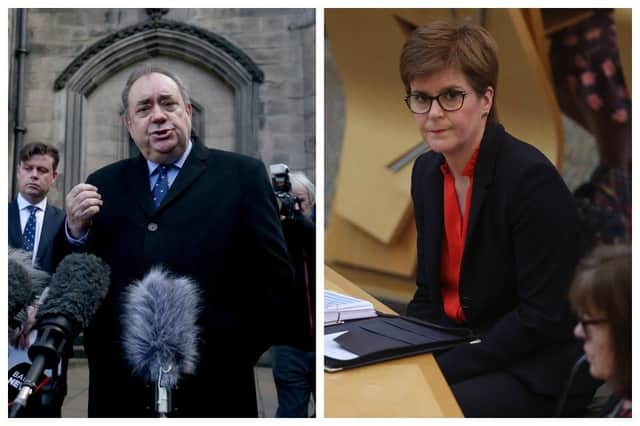 Would Nicola Sturgeon accept Alex Salmond rejoining the SNP?
Ms Sturgeon, who was speaking to Andrew Marr on Sunday morning, was shown a clip of her responding to a question on whether she had "heard any stories" about Mr Salmond prior to it breaking in the press.
In the clip from 2018, the First Minister replied: "Of this nature, absolutely not. I've said previously Alex Salmond informed me of these complaints in April, that was the first I had known."
However, in her written evidence to the Salmond Inquiry, Ms Sturgeon said she had a meeting with Mr Salmond's former chief of staff in late March 2018, and that she was aware of allegations in November 2017 following an inquiry by Sky News about an alleged incident at Edinburgh Airport.
Denying that she had lied, Ms Sturgeon said: "With the greatest of respect, Andrew, you are conflating two issues. When I spoke to you then I was speaking to you about the issues that had been raised under the Scottish Government's processes.
"What I have also set out in that written evidence is that Sky News, back in November the previous year, had raised a query about allegations about Alex Salmond, they never at that time ran that story and that is what I have set out in the written evidence that I was aware of."
Reacting, the leader of the Scottish Conservatives, Douglas Ross, said it was clear the First Minister had "lied".
He said: "The First Minister has clearly lied about when she knew of allegations of sexual misconduct against Alex Salmond.
"Nicola Sturgeon's weak political spin that Andrew Marr was conflating two issues doesn't wash. He point-blank asked the First Minister if she had heard any stories about Alex Salmond and she claimed to only find out in April.
"Her answer was not even in the realms of the truth. The public deserve an explanation and an apology. By doubling down on this clear-cut lie, Nicola Sturgeon is disgracing the office of the First Minister."
In the same interview with Andrew Marr, Ms Sturgeon refused to be drawn on whether she would welcome former first minister Alex Salmond back into the SNP.
She was challenged on the issue as Scotland's Deputy First Minister John Swinney insisted ministers have "not closed the door" on handing MSPs legal advice from the court case Mr Salmond won against the Scottish Government.
Ms Sturgeon responded: "There is a parliamentary inquiry under way, there is an inquiry into my conduct in terms of the ministerial code.
"There are important issues of political scrutiny and accountability, I have no issues with that, but I think it is important to allow those processes under way to take their course."
A SNP spokesman added: "The First Minister has set out previously exactly when she learned of the complaints made to the Scottish Government. These are not the same as the issue relating to media enquiries and Edinburgh Airport.
"The Tories know that yet they are choosing to pretend they don't. This is desperate stuff from Douglas Ross."
A message from the Editor:
Thank you for reading this article. We're more reliant on your support than ever as the shift in consumer habits brought about by coronavirus impacts our advertisers.
If you haven't already, please consider supporting our trusted, fact-checked journalism by taking out a digital subscription.