The SNP leader and former health secretary said "too many" nurses were leaving the profession because of the growing pressures they were facing, as he stressed reducing the number of vacancies would help to improve staff wellbeing across the country.
His comments come after the Royal College of Nursing (RCN) warned staff were "broken" and "suicidal", and worried they could not give their patients the best treatment possible.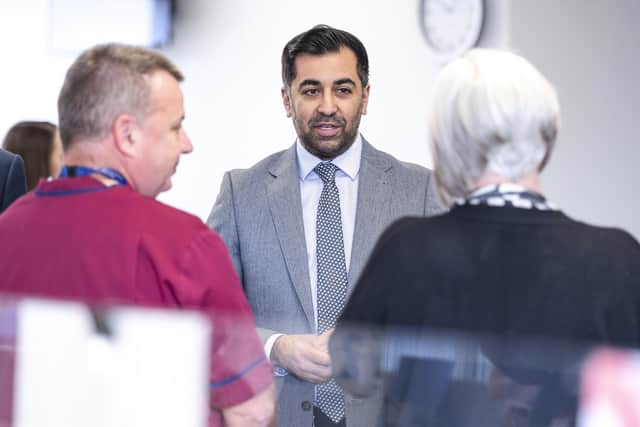 The health union also said more than eight in ten accident-and-emergency (A&E) nurses have had to treat patients in non-clinical areas like storage rooms, which is leading to patients receiving unsafe care, with their dignity, privacy and confidentiality being compromised.
More than 60 per cent also said they feared being struck off the nursing register or being the subject of a court case as a result of patient harm.
Mr Yousaf said he wanted to invest in staff mental wellbeing, but did not say how the Scottish Government would pay for this sort of funding injection.
He said: "Investing in wellbeing is something I am committed to doing, and reducing vacancies by recruiting more nurses will reduce the pressure they face. I have spoken to too many nurses who say the struggle of the last few years means they are almost ready to leave, and some have already left because of the pressure.
"We need to make sure we do everything we can because we don't want these incredible staff to leave."
The First Minister was criticised by opposition parties in Holyrood following the RCN report, with Scottish Liberal Democrat leader Alex Cole-Hamilton saying his "lackadaisical attitude" as heath secretary had led to this crisis.
Mr Yousaf was visiting an NHS 24 contact centre in Dundee when he made the comments. His visit was to mark recent improvements in the telephone helpline service.
Over the Easter and May bank holidays, 31,000 calls were answered by NHS 24 – the highest number since before the start of the coronavirus pandemic more than three years ago.
But despite this recent success, Mr Yousaf said he recognised the NHS was going through an "exceptionally challenging period" and conceded its recovery from the pandemic could take years.
There is also still ongoing worry about nurses going on strike in Scotland. Nurses have not ruled out industrial action, despite voting to accept a new pay offer back in March.
The offer is linked to a £568 million fund from the Scottish Government that will lead to a 6.5 per cent increase in wages in the 2023/24 financial year. The First Minister is hoping the new pay deal in Scotland will also help recruit and retain more nurses.
However, nurses south of the border in England went on strike at the start of this month, after days of industrial action in January and February.
During Mr Yousaf's visit to Dundee he also said he wanted to tackle anti-immigration rhetoric when it comes to recruiting in Scotland.
Home secretary Suella Braverman has said lorry drivers and fruit pickers should be trained up in the UK so the sector doesn't have to rely on migrant labour. She said she hoped this would go some way to her "ultimate aspiration" of reducing net migration to below 100,000. That figure is expected to hit a record 700,000 this year.
Mr Yousaf said: "Suella Braverman and I are products of immigration. Many come from across the world to this country and give more than they take, so we need a sensible, fact-based discussion about immigration."
The First Minister also insisted the threat of coronavirus was "not over", despite the ending of mask requirements in health and social care settings.
From Tuesday, face coverings will no longer be required to be routinely worn in both health settings, such as hospitals, dental surgeries and GP practices, and in care homes.
The change comes more than three years on from when the Covid-19 virus first hit Scotland.
The First Minister said: "It's an evolution of the guidance. We are, of course, advised by those experts in infection prevention and control and we'll continue to take their clinical advice, their clinical input in that regard.
"So Covid isn't over. People will know that who are watching and who are listening. They may themselves have had Covid recently or had a family member have Covid recently. It's really important we follow all of those guidelines in order to keep ourselves safe and the public safe."