Liz Cameron, director and chief executive of the Scottish Chambers of Commerce (SCC), said there were serious challenges in every sector of the economy and "anti-growth policies" must be removed.
The comments came ahead of the final debate of the leadership campaign which saw the three candidates – health secretary Humza Yousaf, finance secretary Kate Forbes, and former minister Ash Regan – face off on Times Radio ahead of the vote closing next week.
The contenders clashed over the Scottish Government's gender recognition reforms, over personal attacks made during the race, and how they would heal the divisions in Scottish society.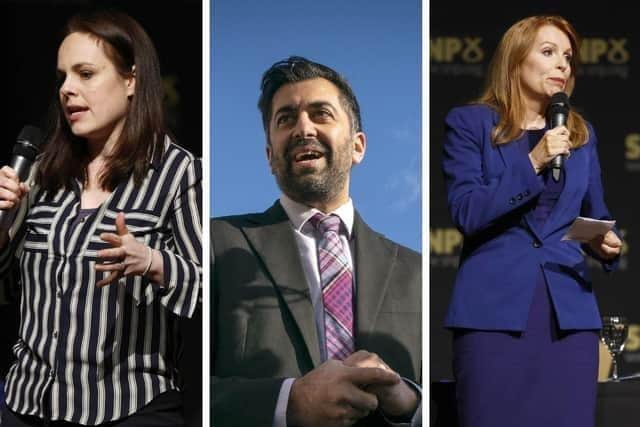 SNP members have until Monday, March 27, to cast their vote, with the next First Minister set to be voted in by MSPs the following day.
However, the candidates were challenged on their commitment to business due to Nicola Sturgeon, the outgoing First Minister, often being accused of failing to establish a good relationship with business leaders. The Confederation of British Industry previously told The Scotsman there was not enough dialogue with Scottish ministers.
In an open letter, the SCC asked all three SNP leadership candidates – Humza Yousaf, Kate Forbes and Ash Regan – to commit to tackling the most urgent issues facing the business community.
This included making economic growth their "number one priority" and appointing a "minister for economic growth and investment on day one of taking office", as well as committing to removing regulation which is increasing the cost of doing business.
The letter also called on the candidates to reform business rates "and ensure UK rates reliefs are equalised for Scotland's hospitality, tourism and leisure sectors".
Ms Cameron said: "Scotland needs a credible economic growth plan which must be a top priority for every department in the Scottish Government. That can only be delivered if the next First Minister makes economic growth its driving mission and works in an honest and open partnership with the business community.
"There are serious challenges in every sector of the economy: businesses can't source and find the skills and talent they need to deliver and grow; upfront costs are mounting up; new regulations are eroding our ability to stay in business keeping the staff we have, transport and digital infrastructure is lagging comparative nations, and business confidence needs to be restored if we are to invest for the future.
"We need you – backed by a Cabinet with business expertise and experience - to work with us to remove anti-growth policies and build a globally competitive economy."
Ms Forbes has repeatedly said she would seek to grow the economy and expand the tax base in a bid to tackle poverty.
It came as Ms Sturgeon chaired her final Cabinet meeting, alongside Deputy First Minister John Swinney, ahead of both standing down next week. The outgoing First Minister said one of the policies she was most proud of was minimum unit pricing for alcohol.
Scottish Conservative finance spokeswoman Liz Smith MSP said: "The Scottish Chambers of Commerce are right to stress that economic growth will be vital but, unfortunately, they are unlikely to get the action required from any of the SNP leadership candidates.
"They have all been ministers in an SNP Government that presided over more sluggish growth, and a higher deficit, than the rest of the UK. They saddled firms with cumbersome regulation and threats of additional costs and failed to reform business rates – or even match the support offered in other parts of the country.
"As Finance Secretary, Kate Forbes was actually in charge of those decisions. Huma Yousaf's record of serial failure will give no one confidence he can deliver anything. Ash Regan is so detached from financial reality she thinks a new currency could be set up 'in weeks'.
"All three are focused on breaking up the UK, rather than concentrating on the growth and stability Scottish businesses urgently need, and that will be central to Scotland's future."
The three candidates faced off on Times Radio on Tuesday night for the final debate of the campaign in front of a small audience, where they were grilled on topics which have dominated the contest so far.
These included the path to independence and plans for improving public service delivery, such as the NHS.
It was a difficult night in parts for Kate Forbes, the finance secretary who is widely believed to be running the favourite, Humza Yousaf, very close for the overall victory.
Asked by the host, Aasmah Mir, what she would to "heal the divisions" in Scottish society, Ms Forbes said Scotland had "lost the ability to disagree respectfully".
"It used to be a time where you and I may have differing views on something, but we didn't dislike one another as a result of that, we were able to exchange views," adding that it must "start with politicians".
Pressed on whether her now infamous attack on Mr Yousaf's record in government which incensed parts of the SNP constituted personal attacks and demonstrated she did not have that commitment herself, Ms Forbes claimed there were "no personal attacks in those comments", prompting laughs from the audience.
Mr Yousaf committed to meeting with opposition politicians in Holyrood on day one of his stint as First Minister should he win the contest, adding too much of the political discourse focuses on "culture war issues".
He said: "I would want to set a tone from day one. One of the first meetings I would like to have on day one is with all of those leaders in the political opposition, not just those that I have a close alignment with i.e. the Greens, but actually all of those leaders to see where can we put our heads together, where can we find common solutions in the national interest."
Ash Regan, who initially asked for clarification on the question which had come from an audience member, asked for time to think about her response before answering.
She claimed Scotland was suffering from "cancel culture", adding: "I'm not a fan of that."
Ms Regan added: "I think being able to cause offence, I think this idea that you can't offend people, I don't think that's right.
"I think you have to be able to cause offence because you can't control what someone else is going to be offended by. For politicians, we do have a responsibility to have that appropriate level of debate and not make things personal."
The majority of the middle section of the debate focused on the candidates views and response to the government's gender recognition reforms and what they would do in response to the Section 35 order from the UK Government, effectively blocking the legislation.
The three contenders have clashed on whether the Scottish Government should challenge the order, which has never been used before, in court.
Mr Yousaf, who has repeatedly said he will challenge it, was asked whether he would go ahead with that challenge even if legal advice said the government would not win.
He said: "Obviously we would take legal advice in the round, you have to do that, and no government responsibly if you get an unequivocal answer from your Lord Advocate that is this cannot be won, we would do the responsible thing and wouldn't take that to court.
"The starting principle actually for me is not about the substance of the GRR bill. It's not about the substance of the bill, it is about the principle of Westminster being able to strike their red pen, veto legislation that has been passed by the majority of parliament and passed with the support of members from every single political party in the Scottish Parliament."
Ms Forbes, who has said she would wait for legal advice before making a decision on whether to take the UK Government to court, was pressed on whether she would do so if the advice said victory was likely.
"I'm not spoiling for a fight," she said. "I will always stand up for Scotland. I also think that as a government and a party that wants to be independent, we need to be able to solve problems ourselves.
"We're in a position because of Section 35 where we need to have an answer in resolving it. We can either go to court against legal advice and spending money that could be used elsewhere in a cost of living crisis, or we can take that legal advice and make a decision on the back of that.
"If there is no alternative to court, I'll go to court, but I think there is an alternative to court and that is the point I'm making."
Ms Regan said she would not take the case to court due to the government being "out of step" with public opinion on gender reform.