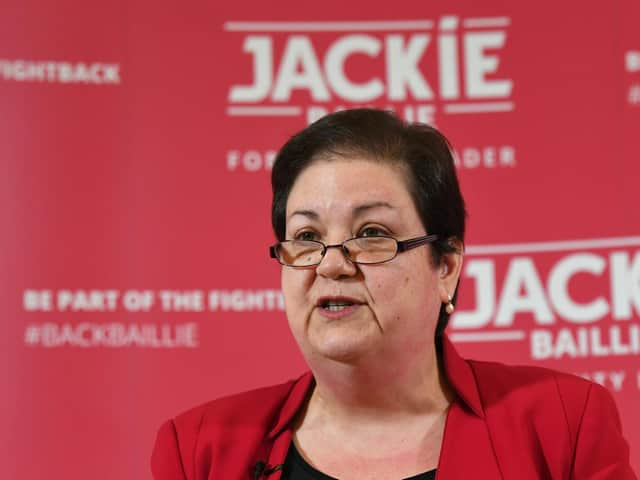 Jackie Baillie is running to be the next deputy leader of Scottish Labour.
Jackie Baillie has said her rival Matt Kerr - and her MSP colleague Neil Findlay - are wrong to suggest their party should give its backing to a second vote, even if the SNP win a majority at next year's Holyrood elections.
Mr Findlay, who is standing down as an MSP at next year's Holyrood election, backs Cllr Kerr and has published a pamphlet in which he says Labour "cannot deny the people of Scotland a second referendum where the majority are calling for it."
However Ms Baillie, MSP for Dumbarton, writing in today's Scotsman, said the pair were "wrong" and that "Scottish Labour must oppose independence; and oppose a second independence referendum".
She said: "Scottish politics is dominated by the constitution, and voters have a right to know where parties stand on our nation's future. Labour supports remaining in the UK because we are a party of solidarity, and because independence would inflict deeper austerity on the most vulnerable in society.
And we must oppose another referendum not only because it would divide communities and leave public services neglected once again, but because if we don't support the ends then we don't support the means."
"Look how that worked out for him," she said. "We are nothing if we don't hold true to our party's values.
"We have just suffered a crushing General Election defeat at the hands of Boris Johnson, who now has a commanding majority in the Commons. But does that mean we now support the Tories' cruel immigration policy or the creeping privatisation of the NHS? Of course not.
"Yet my opponent Matt Kerr and his supporters like MSP Neil Findlay now want to define our indyref2 policy position based on Labour being defeated – proposing support for another referendum if the SNP has a majority after the 2021 election.
"They fail to recognise that we are the third party in Holyrood, with only one MP at Westminster - Ian Murray - who won in Edinburgh South because he held firm against any attempt to pander to the SNP. We are fighting for our relevance and our survival."
Scottish Labour has been torn apart over the constitutional question since shadow chancellor John McDonnell spoke at last year's Edinburgh Festival and said a Labour government would not block a request from the SNP for a second independence referendum, over-ruling the party's policy.
However, since then some in Scottish Labour have called for a rethink of the policy, especially after it lost six MPs in December's election - including Lesley Laird, who resigned as deputy leader, triggering the current battle for the position.
Mr Leonard had proposed a consultation on indyref2 within the party and the holding of a special conference, but the idea was voted down by the party's executive.
Another of Mr Leonard's allies, Alex Rowley, has also urged his party to back the SNP's proposal that Holyrood should have the permanent power to call independence referendums at any time - although it would need the backing of a two thirds of MSPs to call such a vote.
However Ms Baillie said that Labour was facing a "crucial moment", and was "not prepared to toss aside our values". She added: ""I will never tell our activists who give up their weekends and evenings that their efforts are going to be in vain as I don't accept that the SNP will have a majority in 2021. Instead, I want Scottish Labour to mount an effective challenge against the SNP.
"So our starting point at the next election should be that we oppose independence and another referendum, but we must not get bogged down in an argument about process and mandates that only helps our opponents."