New move to introduce Assisted Dying in Scotland
Proposed new laws to introduce Assisted Dying in Scotland will come before MSPs in the next Scottish Parliament after May's election, campaigners have said.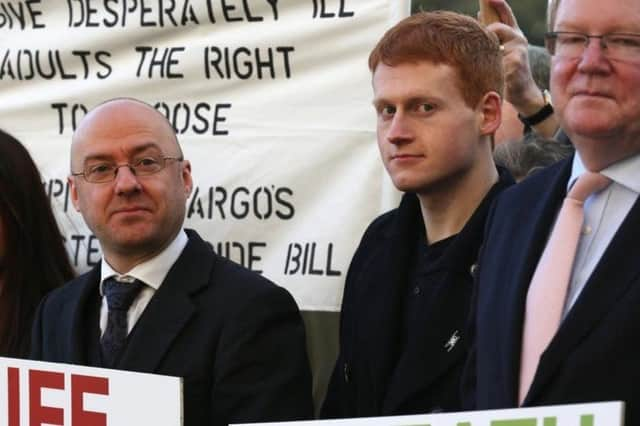 Greens co-leader Patrick Harvie and ex-Tory leader Jackson Carlaw have previously backed assisted dying
The current laws are now "outdated and uncompassionate" and political leaders north of the Border are being urged to show leadership in light of similar moves in New Zealand and Ireland.
A recent poll of doctors also suggests a shift in opposition among medics.
But opponents say any change would send out a message the lives of terminally ill or disabled Scots are "less worthy".
Margo MacDonald, talks at the Scottish Parliament
The Scottish Parliament has already rejected two attempts to introduce assisted dying initiated by the late Margo MacDonald. It was voted down by 82-16 in 2010.
Although another decisive defeat followed in 2015, the 82-36 vote marked a doubling in support among MSPs.
Alyson Thompson, of the Dignity in Dying campaign, says the referendum in New Zealand, with results to be made public next month, and new laws going through the Irish Parliament highlighted a shift in broader public attitudes.
"It's clear that assisted dying is the next urgent rights based reform for Scotland," she said.
"The past few months have thrust the issues of death and dying into the spotlight. It is now at the forefront of people's minds and discussions about how we die and how we care for those reaching the end of life are of greater importance than ever before."
MSPs have previously considered a system of self-administered assisted dying for Scots who are terminally ill, although a designated "friend at the end" could assist. A cocktail of drugs would be provided by pharmacists to enable this.
Ms Thompson said: "The huge injustices that have been perpetuated by an outdated, uncompassionate law that prohibits dying people from choosing the manner and timing of their own deaths must end.
"MSPs returned to the Scottish Parliament in 2021 will be asked to vote on safeguarded assisted dying proposals for terminally ill, mentally competent adults. As more countries introduce similar laws, we ask that Scots politicians join them in showing leadership on delivering the rights that our dying citizens so desperately need."
A cross-party group on End of Life Choices has already been established at Holyrood, comprising MSPs from all parties and a fresh attempt at legislation is expected to happen.
A key obstacle has been opposition among doctors, but a recent British Medical Association (BMA) vote hinted at a shift in the organisation's opposition, with 61 per cent either supportive (40 per cent) or neutral (21 per cent) on self-administered end of life drugs.
But Dr Gordon Macdonald, chief executive of Care Not Killing, criticised plans for another attempt to change the law.
He said: "It is disappointing that ideological pro-killing campaigners continue to push this narrow and dangerous agenda during a global pandemic – a crisis that has already seen many vulnerable groups treated differently, including the elderly people being discharged from hospitals into care homes without adequate testing for Covid-19 and the blanket use of Do Not Resuscitate orders.
"Changing the law would remove universal protections and send out a message that the lives of the terminally ill and disabled people are less worthy of protection than others. In other countries that have legalised assisted suicide and euthanasia, the law has been extended to include other groups."
A message from the Editor:Thank you for reading this article. We're more reliant on your support than ever as the shift in consumer habits brought about by Coronavirus impacts our advertisers.
If you haven't already, please consider supporting our trusted, fact-checked journalism by taking out a digital subscription.
Want to join the conversation? Please or to comment on this article.