New Chancellor Jeremy Hunt warns of tax rises and budget 'squeezes'
Liz Truss's new Chancellor has signalled his plan to up-end the Prime Minister's entire economic strategy, in an extraordinary rebuke of the pledges that brought her into office.
Jeremy Hunt, widely seen now as the most powerful figure in Government, used a series of broadcast interviews on Saturday morning to signal that Ms Truss's immediate economic plan is now defunct as he suggested that tax rises could form part of a painful fiscal package designed to restore market confidence in the UK.
Mr Hunt, a former foreign secretary, was parachuted into Number 11 to replace Kwasi Kwarteng in a bid to restore order to Ms Truss's ailing administration.
In his first full day in office, he warned of "difficult decisions" to come as he suggested that taxes could rise and budgets - including on health and defence - would likely be squeezed further in the coming months.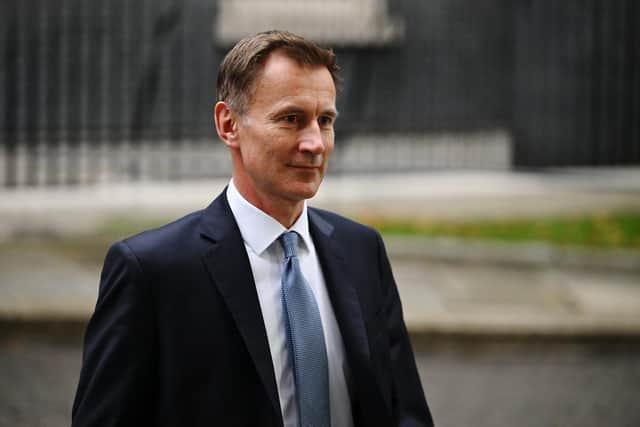 Ms Truss on Friday sacked her friend and chancellor Kwasi Kwarteng and ditched her commitment to drop the planned rise in corporation tax from 19% to 25%, after three weeks of turmoil on the financial markets in the wake of Mr Kwarteng's £43 billion mini-budget tax giveaway.
Mr Hunt, twice a Tory leadership contender, wasted no time in criticising the mini-budget but endorsed the "fundamentals" of the push for growth.
He told Sky News: "It was a mistake when we're going to be asking for difficult decisions across the board on tax and spending to cut the rate of tax paid by the very wealthiest.
"It was a mistake to fly blind and to do these forecasts without giving people the confidence of the Office of Budget Responsibility saying that the sums add up. The Prime Minister has recognised that, that's why I'm here."
Allies of Mr Hunt had likened his new role to that of the "chief executive" in Government and on Saturday Mr Hunt acknowledged that the prime minister had effectively relinquished control of the public finances over to him.
The Chancellor, who will meet with Treasury officials later and with Ms Truss at Chequers on Sunday, told BBC Radio 4's Today programme he now had a "clean slate" on the mini-budget, as he prepares to deliver a highly anticipated fiscal statement on October 31.
"I'm leaving open all possibilities this morning," he said. "Nonetheless, his comments indicated that cuts to public spending and tax rises could be coming.
"Spending will not rise by as much as people would like and all Government departments are going to have to find more efficiencies than they were planning to."
"And some taxes will not be cut as quickly as people want. Some taxes will go up. So it's going to be difficult."
Appearing to rule out an early election, Mr Hunt repeatedly insisted that voters now wanted stability and in 18 months' time would be able to "judge" Ms Truss at the ballot box.
But Mr Hunt's comments may only add to the sense among some Tory MPs that Ms Truss is increasingly powerless in Downing Street, with her party split about its next steps.