New boss of oil and gas trade body urges next First Minister to rethink stance
The new boss of the oil and gas industry body has urged the next First Minister of Scotland to "reconsider" plans for a presumption against new exploration in the North Sea, as he insisted the sector is a "force for good".
David Whitehouse, who took over as the chief executive of Offshore Energies UK (OEUK) in January, said the Scottish Government's energy transition plans would deliver a "significant loss of value" to the economy.
He said it was "really important that we continue to see investment in oil and gas" during the move to low carbon technology.
It came as he called on the UK Government to amend its windfall tax by introducing a mechanism that would "switch off" the 75 per cent tax rate when prices fall below a certain trigger point.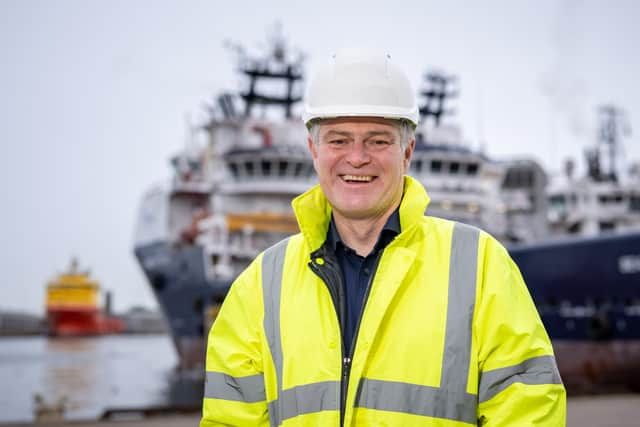 In a letter to Chancellor Jeremy Hunt ahead of the Spring Budget later this month, Mr Whitehouse said: "Two windfall taxes on the oil and gas sector plus a windfall tax on the electricity generators has significantly undermined the appetite of companies to invest in the UK and rocked international investor confidence."
Plans to adopt a presumption against new oil and gas exploration formed part of the Scottish Government's long-awaited draft energy strategy, which was published earlier this year.
Russell Borthwick, chief executive of Aberdeen and Grampian Chamber of Commerce, previously criticised the "damaging, job-destroying position". He said: "While the Scottish Government's position is largely symbolic, as these matters are reserved to the Westminster parliament, this is still a breathtaking betrayal of one of Scotland's biggest industries."
Kate Forbes, one of three candidates to be the next SNP leader, has indicated she does not support the presumption. She warned against throwing oil and gas "to the wind".
Speaking to The Scotsman, Mr Whitehouse welcomed her comments. He insisted OEUK supports the overall aims of the Scottish Government's strategy.
He said: "What we will raise with the Scottish Government, though, is as that plan is currently configured, accepting all those good things, what it is currently delivering is a significant loss of value in the Scottish economy."
Mr Whitehouse said billions would be lost from the economy, adding: "From our perspective, it is very difficult to deliver a just transition if you're taking that degree of value out of the economy.
"Our industry, we are here though as a force for good. We're here to collaborate. And actually, part of what we want to engage with the Scottish Government on is what can we do to ensure that we don't deliver that loss of value.
"We have many ideas, many good ideas and we would hope that the Scottish Government would embrace them."
Mr Whitehouse said the industry is "absolutely committed" to decarbonisation. But he said: "We think it is really important that we continue to see investment in oil and gas during this transition. While we're using hydrocarbons, while we have an industry that is producing them cleanly, we think it's really important that we continue to invest and secure those jobs in Scotland.
"The strategy, as it's currently written, talks about a presumption against further exploration. We believe that to be wrong. We have declining oil and gas in Scotland. Further exploration will simply allow us to slow down that decline.
"And again, while we have a need for oil and gas in the Scottish economy, while we have an industry that is producing it cleanly, we should be supporting that industry, and that will help backfill some of that loss of value that we're talking about."
He said he wanted the next first minister to "reconsider" the presumption against new oil and gas developments, adding: "We want them to reconsider the presumption against and recognise the value of the oil and gas sector, not only to energy security, which I think is key, but also as the platform to deliver an accelerated transition."
OEUK argues accelerating the decline of North Sea oil and gas production could increase Scotland's emissions because more fossil fuels will need to be imported to meet demand.
Mr Whitehouse said: "Our concern is if we undermine the oil and gas sector, we undermine the world class supply chain that we have here in Scotland and the UK, and we lose that platform that allows us to build those green renewable jobs. So we have a real concern there.
"We need the support. If we get there, I think we have a platform where actually more and more of the value that you'll see in the transition is going to be coming through the UK and coming through Scotland.
"If we get this right, we will have an economy which successfully manages the transition, still has a role for decarbonised oil and gas, and creates a fantastic new supply chain and opportunities throughout the UK and Scotland. If we get this wrong, we're going to undermine our existing industry, we're going to undermine our existing supply chain and effectively we will be importing the energy transition and we just can't allow that to happen."
He said more than 90 per cent of OEUK members have indicated they are reducing investment in oil and gas, adding: "I think we are at a real risk that we will have a significant downturn in oil and gas production. And what will come with that is a reduction in our energy security.
"We're in the middle of a global energy crisis and we will be undermining our own energy security as a nation and will be undermining all those good people who work in the industry, all the good jobs that we require in the industry. So yes, it is a real concern. And I think there is very strong evidence that we're seeing that across the patch today."
Comments
 0 comments
Want to join the conversation? Please or to comment on this article.