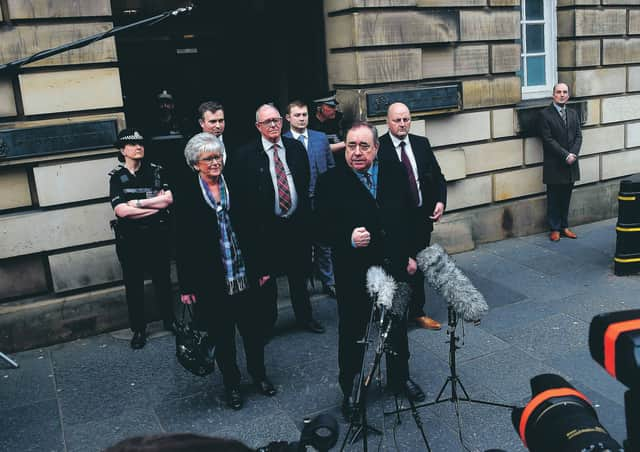 Former first minister Alex Salmond. Picture: Lisa Ferguson
A Holyrood inquiry into the Scottish Government's bungled handling of harassment claims against Alex Salmond must "get the answers that the public needs", according to MSPs involved in the probe.
The long-awaited Parliamentary investigation launched after the former First Minister's dramatic civil court victory in January 2019 over the Government he used to lead will get underway next week. It resulted in taxpayers forking out more than £500,000 in expenses to Mr Salmond after the Court of Session found that the Scottish Government had acted unlawfully in the way that it dealt with harassment complaints made by civil servants.
The inquiry was put on hold when a string of criminal sexual assault charges were brought against Mr Salmond, but he was cleared of all charges in March this year.
Although a specially convened committee of MSPs has held previous meetings to discuss it's workload, its evidence-taking sessions will get underway on Tuesday when the Scottish Government's top civil servant, Permanent Secretary Leslie Evans, gives evidence.
Mr Salmond himself, First Minister Nicola Sturgeon and her husband Peter Murrell, the SNP's chief executive, are all earmarked to give evidence, along with other senior civil servants.
Tory MSP Murdo Fraser, who will sit on the committee, said it has a duty to get answers.
"This is a vital inquiry that must uncover why so much taxpayers' money was wasted and how this sorry state of affairs came to pass," he said.
"There are many serious questions for Nicola Sturgeon and her government to answer, and the Scottish Conservatives will hold their feet to the fire to make sure the necessary answers are forthcoming.
"However, for the inquiry to do its job properly, we still need the SNP Government to be more transparent and to stop withholding so many documents that are crucial if the committee is to scrutinise what went on. Many people have been failed throughout this process. We must finally get the answers that the public needs."
The Scottish Government has refused to release the legal advice it received in relation to the court challenge brought by Mr Salmond.He had called for the resignation of Ms Evans after the collapse of the Scottish Government's case in court after he launched a judicial review into the way it handled the harassment claims against him.
Ms Evans was backed by Ms Sturgeon, who has also faced questions. It was Ms Sturgeon who signed off the complaints handling process, drawn up in the wake of the #MeToo movement and sexual harassment scandals at both Holyrood and Westminster.
Ms Sturgeon has said she met Salmond several times about the complaints, but insists she had no role in the process and "acted appropriately and in good faith."
Another committee member, Liberal Democrat Alex Cole-Hamilton said the inquiry must clear up what went wrong.
"A government process that was designed to help victims of bullying and harassment failed utterly and left workers, who had already suffered, exposed and denied natural justice," he said.
"This committee must get to the bottom of a series of events that has cost Scottish taxpayers hundreds of thousands of pounds and left the Scottish Government deeply embarrassed. The committee has already faced challenges over securing documents and statements from persons of interest. That evasiveness does not serve the people of Scotland well.
"As the committee moves to the next stage, we will expect witnesses to be open and transparent about their role in this saga."