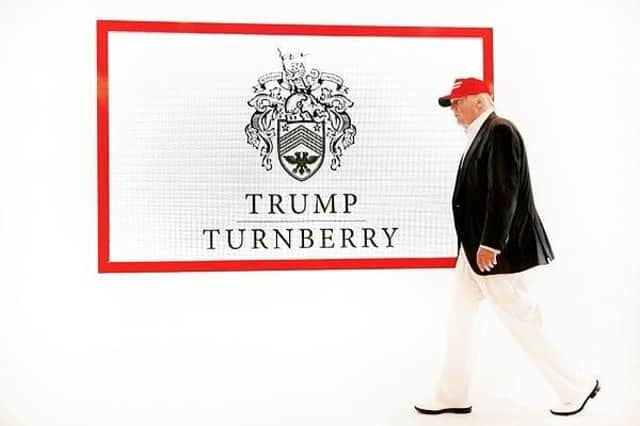 Donald Trump acquired the Turnberry resort for £35.7m as part of a decade-long cash spending spree. Picture: John Devlin
A motion at Holyrood urging ministers to apply for an Unexplained Wealth Order was defeated in the chamber despite cross-party calls for the government to use its powers to seek one of the so-called 'McMafia' orders against the former US president.
The opposition debate was brought by Patrick Harvie MSP, co-convenor of the Scottish Greens, who said that the pursuit of an UWO constituted a "modest step towards accountability."
Mr Harvie said that the Trump Organisation would have "no problem" if it could provide "reasonable answers to reasonable questions."
However, justice secretary Humza Yousaf said that while ministers have the authority to seek one of the so-called 'McMafia' orders, to do so would be an "abuse of power" that would "fatally undermine our justice system."
Mr Yousaf tabled an amendment to Mr Harvie's motion which stressed that there "must not be political interference in the enforcement of the law." The amended motion was subsequently approved, with 89 MSPs voting in favour, and 32 against.
But Mr Yousaf also told MSPs that given the CRU would not confirm or deny whether any investigation into Mr Trump was underway, it would be wrong to make presumptions.
"Any member who says there is not an investigation going on is merely speculating," he added.
A demonstration calling for an investigation into Mr Trump's finances, organised by the campaign organisation, Avaaz, was staged outside the Scottish Parliament ahead of the vote. Picture: Lisa Ferguson
Opening the debate, Mr Harvie said it was "simply not possible" for First Minister Nicola Sturgeon and her ministers to "insulate themselves from accountability."
"What we're talking about here is not prosecution, it's merely going to court and asking for information to be provided," he explained.
"If the Trump Organisation can provide reasonable answers to reasonable questions, then they have no problem, but it is the Scottish Government and the Scottish ministers that have the responsibility to ask those questions."
Responding, Mr Yousaf said he found Mr Trump to be a "deplorable" individual, and presumed there was a "universal dislike" of him across parliament.
But he stressed: "We rightly have a separation of the political and law enforcement.
"While Mr Harvie is right that ministers could apply [for a UWO], I don't think it would be right for Scottish ministers individually or collectively, other than the Lord Advocate, to become personally involved in the pursuit of an investigation into any one individual."
UWOs are a relatively new - and rarely used - power with which authorities can target suspected corrupt foreign officials who have potentially laundered stolen money through the UK. The mechanism is designed force the owners of assets to disclose their wealth. If a suspected corrupt foreign official, or their family, cannot show a legitimate source for their riches, authorities can go to court to seize the property.
Mr Yousaf's amendment asserted that it was the CRU which undertakes the "independent investigatory role" on behalf of the ministers, and reports directly to the Lord Advocate.
However, the Proceeds of Crime Act 2002 states that the Court of Session may make a UWO on an application from ministers. Aidan O'Neill QC, the leading advocate, has also said that ministers alone are responsible for decisions around UWOs, and that transferring responsibility to the Crown Office or Lord Advocate "does not and can not" change the government's legal responsibilities.
Scottish Labour's Colin Smyth and Alex Rowley also spoke in the debate, supporting Mr Harvie's motion.
Mr Smyth, whose region takes in Mr Trump's Turnberry resort, described the 74-year-old as an "absentee owner" of the four-time host of golf's Open Championship, and said the Trump Organisation had been as successful at running the property as Mr Trump had been at governing the US.
"There clearly are grounds or carrying out further investigation of how the current owner acquired Turnberry and a strong public interest in doing so," he told the chamber.
"We've all seen the legal advice which directly contradicts [the Scottish Government's] position. It's also important to say that an UWO is a civil power, now a criminal one. It does not make accusations of criminality. It is used to make sure things are in order."
But Gordon Lindhurst from the Scottish Conservatives argued the basis for using UWOs should be independent from government.
"These orders should not just be unavailable to be used as a political tool, they should be above suspicion of being used as a political tool," he said.
He dismissed Mr Harvie as "nothing more than a national embarrassment," prone to "pathetic antics." His statement did not address the issue of UWOs, or reference the financing of the Trump Organisation's resorts.
It did, however, incorrectly infer that Mr Harvie was part of the government, and claimed his father's firms had "created thousands of jobs." Companies House records show Mr Trump's Aberdeenshire resort employs 84 people, while Turnberry has 541 staff. The South Ayrshire resort employed 249 staff the year before he bought it.
Amid questions dating back more than a decade over how Mr Trump has financed his Scottish properties, Ms Sturgeon was first urged to pursue an UWO against Mr Trump in April 2019 by Avaaz, the global activism organisation.
It sent on a 30 page-long briefing outlining the case for an UWO, compiled with the input of advocate Bryan Heaney. It emphasised that there was "more than enough reasonable suspicion" surrounding the cash deal struck by Mr Trump to justify an application for an order.
A message from the editor:
Thank you for reading this article. We're more reliant on your support than ever as the shift in consumer habits brought about by coronavirus impacts our advertisers. If you haven't already, please consider supporting our trusted, fact-checked journalism by taking out a digital subscription.