Mother of tragic Milly Main tells of 'wave of emotions' after Scottish NHS board named as suspect
Kimberly Darroch said she had never been able to celebrate her daughter's life as she should
The mother of a ten-year-old girl who died at a Glasgow hospital has said she was hit by an "emotional wave" when she heard Scotland's largest health board has been named as a suspect in a corporate homicide investigation.
Kimberly Darroch, whose daughter Milly Main died in 2017 after contracting a water-based infection while being treated for leukaemia at the Queen Elizabeth University Hospital (QEUH) campus, said she had never been able to celebrate her child's life as she should.
Visibly emotional, she told journalists: "Any time I think of Milly, I think of all the pain that that day caused, continues to cause. I would like this to come to an end sooner rather than later so that I can think of Milly and celebrate her life, all the good times that we had. Instead right now, I feel that pain every single day because of all this. It's very, very difficult."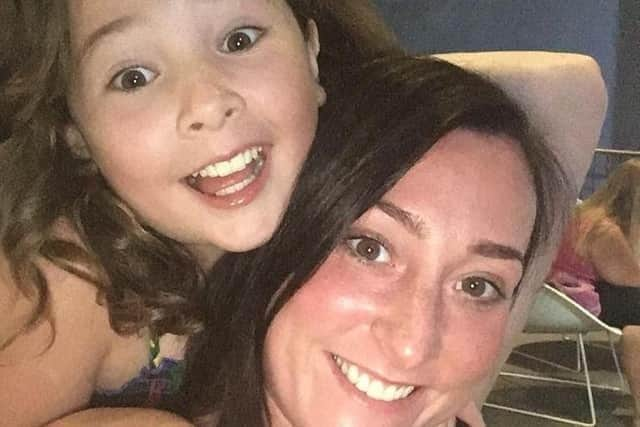 Ms Darroch previously told a public inquiry into the building of hospitals, including QEUH, that her daughter's death was "murder".
Speaking at a press conference alongside Scottish Labour leader Anas Sarwar, who has campaigned on behalf of families, she spoke of the "emotional wave" she felt on hearing the latest update, from "shock, disbelief, joy to profound sadness".
She said: "Because at the heart of all this, Milly died and she should still be here."
Ms Darroch said the news was a "huge step in the right direction", adding: "I truly believe that we will get justice one day."
She accused NHSGGC of playing "mind games" and planting "doubt", and joined Mr Sarwar in calling for its chief executive, Jane Grant, and outgoing chair, John Brown, to resign.
Mr Sarwar said it was the first ever corporate homicide investigation of a public body in Scottish history. He said he was "eternally grateful" to the whistleblowers who initially raised concerns. The Scottish Labour leader also paid tribute to former SNP health secretary Jeane Freeman, while criticising her successor Humza Yousaf, who is now First Minister.
Referring to the NHSGGC leadership, he said: "To this day, the suspects are being allowed to walk on the crime scene."
He said the chair and chief executive should "do the decent thing for the first time" and step down, or the Scottish Government should remove them.
Mr Sarwar said: "I don't think the Crown Office would have taken this step unless they thought they had sufficient evidence to investigate. I don't think they would have taken this huge step if they didn't think that this was an unprecedented situation. And therefore I hope that the full force of the law is applied, so that we can get justice for Milly and justice for the rest of the families involved in this investigation."
Mr Brown, who steps down as chair at the end of this month, said his thoughts are with families and staff who have been affected. "We have been thanked by the police for our co-operation thus far with their investigation, and I want to give the families and everyone else an assurance that that will continue," he said.