Linda Allan's daughter Katie, 21, died after suffering from depression and being bullied while serving a six-month sentence for driving while over the limit and hitting a 15-year-old boy, who was knocked unconscious.
Mrs Allan and her family have been campaigning for improved mental health support within Scotland's prisons since their tragic loss in 2018, and have also called for a fatal accident inquiry into Katie's death.
Mrs Allan, an associate professor at Glasgow University, said despite the family's involvement with a review of prisons policy, she had been sent a letter and "shoddy" document from Mr Yousaf on the last day of Parliament before it broke for the election campaign.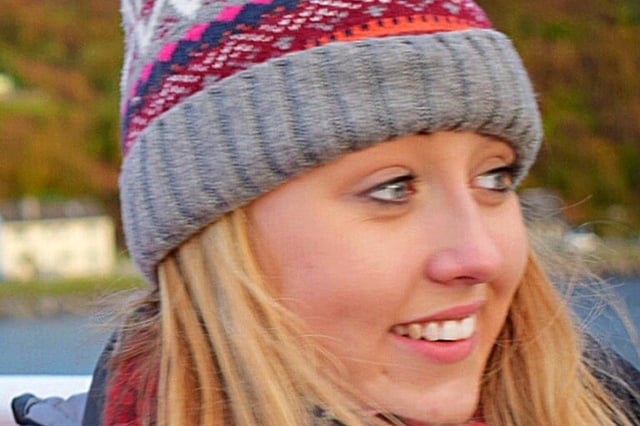 Katie Allan killed herself at Polmont Young Offenders Institute in June 2018 having previously pleaded guilty to drink driving and causing serious injury by dangerous driving.
The document, which listed progress on 80 recommendations, was addressed to Wendy Sinclair-Gieben, the chief inspector of prisons in Scotland, and was a final progress update on an expert review of mental health support for young people in custody in Polmont.
"We should have received this document months ago, so there was time to discuss it with the government," she said. "The timing is shocking and insulting to be honest.
"We had been in dialogue and had been promised by Humza Yousaf to be kept up to date about the expert review. We hadn't heard anything, which we put down to the Covid pandemic.
Linda and Stuart Allan, the parents of Katie Allan, and their lawyer Aamer Anwar addressing MSPs when they launched their campaign to reform the way the justice system deals with mental health.
"Then we received that shoddy document, which is actually a copy of a letter to the chief inspector of prisons, not even directly to us."
She added: "Not one recommendation has been achieved. There are no outcome measurements, no plans for continued improvement, no reflection of evidence. Suicides in prisons have been increasing rather than decreasing. There is no bespoke mental health policy for young people.
"When a young person is deemed a suicide risk, they put them in solitary confinement, taking away their possessions and clothes, switching bright lights on every 15 minutes to check on them – that's not therapeutic care, it's barbaric and a kind of torture.
"We raised concerns eight times about Katie's mental health yet there was not one concern form filled out. That doesn't seem to have changed at all.
"It is very clear there is no strategic commitment to prevent young people taking their own lives in Scottish prisons."
Mrs Allan said there was a "particularly insulting" line in the document – "it will never be acceptable to view self-harm and self-inflicted death as a regrettable feature of time in custody".
"The death of our daughter and others is not just a 'regrettable feature', it's a tragedy," she said.
"There seems to be a feeling running through the whole justice service that people will kill themselves in prison, and so what? It's shocking this is Scotland in the 21st century. Twenty two people have died since Katie – 2019 saw the highest suicide rate ever. Mental health support has stopped because of Covid when it should have been increased.
"Yet this document suggests everything is fine. It's all spin. The whole system is broken.
"This is not a political issue, not a box that had to be ticked before an election. It's something the government needs to be continuing to work on."
Mrs Allan's lawyer Aamer Anwar said the family, along with the mother of William Lindsay, who was 16 when he took his own life in 2018 while on remand in Polmont, were considering launching a corporate manslaughter legal case.
"Receiving that letter at 5:23pm the day Parliament broke was insulting and deeply disrespectful to the families," he said. "William's mum Christine has been in tears. There is no empathy in what was written in the report either.
"These mothers have been campaigning for more than three years and we're no further forward.
"Budgets are made, fancy working groups set up, reports and reviews yet nothing has changed. There's a lot of hand-wringing when a young person dies, but a failure to ask why it happened and actually make the changes. It's a state-sanctioned death sentence and the system uses the passage of time to dilute criticism.
"It's a smack in the face for both these mothers and deeply patronising."
However, Mr Yousaf, who is standing for re-election in Glasgow Pollock, said the government had taken the issues "very seriously" and there would be a further report in the summer.
"My thoughts remain with the family and friends of every family bereaved by a death in prison custody," he said.
"The Scottish Government and prison services takes all instances of self-harm and threats to suicide in custody very seriously and have been continuing to robustly monitor throughout the pandemic.
"We enacted this review and a further into the handling of deaths in prison custody, which will report in the summer. This update clearly demonstrates a range of work by agencies and Scottish Government portfolios to make improvements."
He added: "I have been clear that progress on these recommendations will not end here and improvement will continue in operational practice with our ultimate aim to oversee the continued fall in the numbers of young people entering our criminal justice system in the first place.
"Polmont was prioritised in the rollout of mobile phones with 24/7 access to the Samaritans helpline. Virtual visits were also prioritised and introduced quickly in order to provide another means of maintaining family contact when physical visits were not possible due to Covid restrictions.
"Understandably work to progress ongoing recommendations of the review was delayed for a number of months in the first wave of the pandemic in 2020.
"Since publication of the review in May 2019, we have aimed to keep people informed of recommendation progress including Parliament updates and letters to families."
A message from the Editor:Thank you for reading this article. We're more reliant on your support than ever as the shift in consumer habits brought about by Coronavirus impacts our advertisers.
If you haven't already, please consider supporting our trusted, fact-checked journalism by taking out a digital subscription.