'Most people have no idea who he is' - Green co-leader dismisses impact of Andy Wightman resignation
The loss of Andy Wightman over accusations of "intolerance" around the issue of transgender rights has been dismissed as irrelevant by the Scottish Greens' co-leader because "most people have no idea who he is".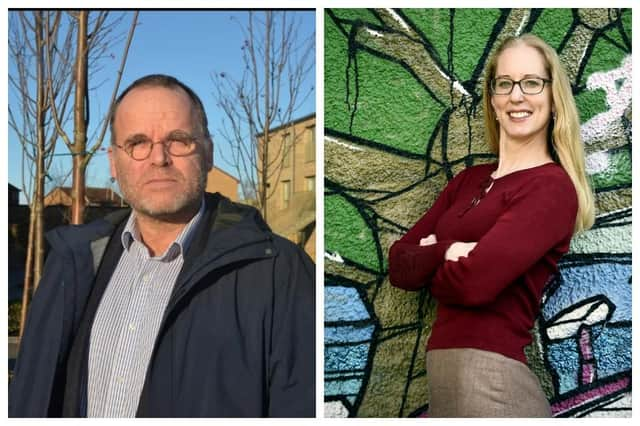 In an exclusive interview, Lorna Slater said the Lothian MSP's resignation came as a "massive shock" with the reasons behind his departure "honestly a mystery".
She said his issues may have stemmed from a "kind of male privilege" and the belief he was being silenced.
Ms Slater also claimed Mr Wightman never engaged with the women's or LGBT groups within the Greens and that she would feel "very uncomfortable" working alongside MSPs who held different views on transgender rights.
Mr Wightman resigned as a Green MSP in December after the Greens opposed an amendment to the Forensics Medical Services Bill.
In his resignation letter, he claimed the party had become "very censorious of any deviation from an agreed line", stating party policy had become "provocative, alienating, and confrontational for many women and men".
The MSP is a respected figure on the issue of land reform and crowdfunded more than £170,000 from supporters for his successful defence of a defamation action in March last year.
Asked whether he would be a big loss to the Scottish Greens, Ms Slater said: "Andy leaving was a massive disappointment and to be honest a massive shock.
"Andy has very specific followers, but most people have no idea who he is. There's a bit of a niche following there, but I don't think it is a general issue."
The co-leader said she "absolutely did not" recognise the accusation of intolerance in the party, adding that she did not know where that concern originated.
Ms Slater said: "He didn't even try to talk to us, so yeah, I don't know where that comes from. He didn't even try to talk to us about that.
"Does it come from a kind of male privilege where anyone who thinks differently than you is somehow silencing you? I don't know, I'm a little unclear on that myself."
The Scottish Green politician said it was "honestly a mystery" as to why Mr Wightman resigned, saying she personally wrote to him asking him to stay and that he never approached the women's network within the party to discuss the issue.
She said: "It was presented as a done deal and we offered to discuss the matter with him, I myself wrote to him to ask him to stay and talk to us, endless hours of discussion happened between our parliamentary group and our parliamentary staff and he would not be persuaded to continue the discussion with us.
"Andy at no point approached the women's network to ask us why we have the policies we have, over why we feel the way we do over trans rights. At no point did he engage with any of our trans members of the Rainbow Greens.
"So that's why it came as a shock because if someone really wants to learn about those issues, we have those party bodies and discussing those things is pretty much what we do, that's why we exist, and I really wish that when we had reached out to him to come and talk to us that he had taken us up on that."
Ms Slater said she did not have a message to women who had concerns around trans rights due to Mr Wightman's treatment.
She said most of the concerns were raised by men and that "as a majority" women "don't have any issue around trans rights".
The co-leader added: "I'm not sure that spending our time trying to argue with this tiny percentage of people who believe the nonsense and straight-up lies of that these groups are about is a good use of our time when actually what we need to be fighting for is proper healthcare for trans people, for trans people to feel safe and not be the victim of hate crimes.
"We have much more important things that we need to be doing around trans rights and around women's rights, for example improving women's representation in politics.
"We have bigger fish to fry than trying to change the minds of some people that have been caught up in some Twitter conspiracy story."
A message from the Editor:
Thank you for reading this article. We're more reliant on your support than ever as the shift in consumer habits brought about by coronavirus impacts our advertisers.
If you haven't already, please consider supporting our trusted, fact-checked journalism by taking out a digital subscription.
Comments
 0 comments
Want to join the conversation? Please or to comment on this article.