More than half of Scots say problems are common in their neighbourhood
The Scottish household survey flagged issues including litter, antisocial behaviour and drug misuse
More than half of Scots say issues such as drug misuse, vandalism and litter are common in their neighbourhood.
Figures published as part of the annual Scottish household survey show the most deprived areas are the worst affected.
Critics accused ministers of starving communities of funding and called for a "proper return to community policing".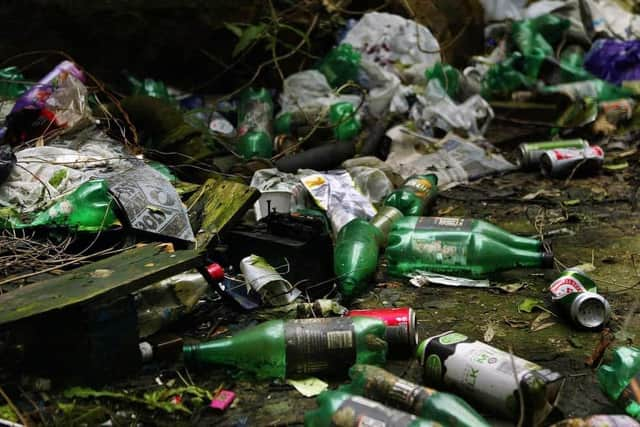 Around 10,000 households were interviewed over the telephone between April 2021 and March 2022 as part of the latest household survey. Among other issues, they were asked about problems in their areas such as noisy neighbours or regular loud parties, vandalism, litter, neighbour disputes, intimidating behaviour, drug misuse or dealing, rowdy behaviour, abandoned or burnt out vehicles and animal nuisance such as noise or dog fouling.
The survey found 34 per cent reported that rubbish or litter lying around was a very or fairly common problem in their neighbourhood, while 31 per cent reported animal nuisance. A total of 13 per cent reported drug misuse or dealing – although this rises to 31 per cent in the most deprived areas, compared to just 3 per cent in the least deprived.
Overall, 53 per cent of Scots reported at least one very or fairly common problem in their neighbourhood. This is broadly similar to the results for 2020.
Willie Rennie MSP said: "Scotland is a kind and generous country, packed full of people who go out of their way to help their neighbours and those around them. However, these figures show the common problems that ordinary Scots are having to deal with every week.
"Some of this behaviour is clearly criminal. Some of it is an annoyance that local authorities should be clamping down on.
"Sadly our communities, our police service and our local authorities have been starved of funding under the SNP. The SNP's neglectful approach has seen officers removed from the streets, local police counters closing and padlocked neighbourhoods springing up.
"We need a proper return to community policing to increase the visibility of officers and strengthen the safety of our neighbourhoods. Scottish Liberal Democrats also want to see tougher fines to tackle offences such as fly tipping which blight our beautiful country."
SNP Justice Secretary Angela Constance said: "Neighbourhood safety is a key priority for the Scottish Government and recorded crime is at one of the lowest levels seen since 1974. We have set out bold plans to tackle flytipping, including proposals to more than double the current maximum fines.
"The Scottish Government is committed to supporting Police Scotland to keep our communities safe as demonstrated by our £1.45 billion investment in policing in 2023/24."
The Scottish Government pointed to the overall reduction in recorded crime reflected in the Scottish crime and justice survey for 2019/20, published in March 2021, which sought the views of around 5,600 adults living in private households. It showed that people living in Scotland are less likely to be victims of crime than in England and Wales, where 13.3 per cent of adults were victims of crime in 2019/20.
From 2008/09 to 2019/20, the proportion of adults in Scotland who felt safe walking alone after dark in their local area increased from 66 per cent to 77 per cent.
Comments
 0 comments
Want to join the conversation? Please or to comment on this article.