Ministers to discuss public pay policy with striking unions 'quickly' as SNP accused of 'hypocrisy'
The deputy first minister has committed to opening discussions with unions about the public pay policy for the coming financial year "quickly", union officials have said as thousands of civil servants walk out as part of UK-wide industrial action.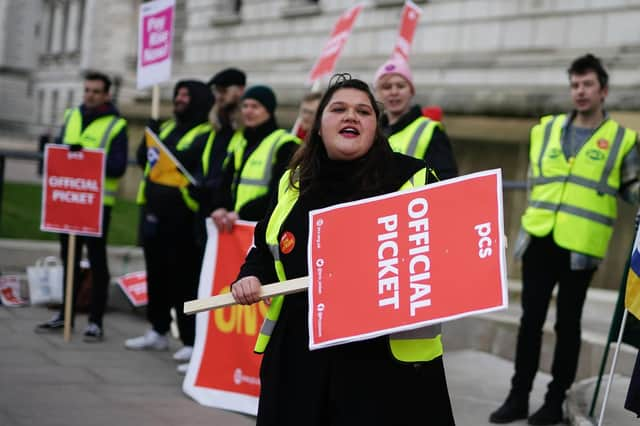 The PCS union, which represents civil servants and parliamentary workers, is taking part in the strikes leading to MSPs from the SNP, Scottish Conservatives, and Scottish Liberal Democrats crossing the picket line.
Continuing parliamentary business during the strikes has led to accusations of "hypocrisy" from Scottish Labour who, alongside Scottish Green MSPs, will not cross the picket line outside Holyrood today.
PCS industrial officer Joy Dunn said she was "extremely disappointed" to see MSPs crossing the picket line, but expressed thanks to Green and Labour MSPs for "showing their solidarity".
She also told The Scotsman that the interim finance secretary, John Swinney, would begin talks on the public pay policy for 2023/24 "quickly" after it was raised in a meeting with the PCS.
Ms Dunn said the lack of a public pay policy in December's budget, a glaring omission, was "obviously a concern" and left low-paid workers unable to plan ahead.
She said: "From our point of view even if that was a minimum pay policy, at least low-paid workers would get an indication of what they might get as a minimum and could budget accordingly, but now they don't know.
"So they would get at least that if not more through negotiations and now they don't have a clue what they're going to get after April 1 and I think that makes matter worse.
"We have spoken to the DFM about this and he's indicated his officials will get into discussions with us quickly."
Pay talks are ongoing between the Scottish Government and PCS officials, however the Scottish Parliament Corporate Body which employs Holyrood staff has not reopened talks.
Ms Dunn said: "We are prepared to sit down and negotiate as we have indicated to the Scottish Government and we are back in pay talks on pay for 2022 with them, we're not back in pay talks with the SPCB, I would advise them to get back into talks and the UK government's position of a 2 per cent imposition is just unrealistic when you've got food inflation at 16 per cent and RPI at well over 11 per cent.
"What we've had is a decade of below inflation increases and to a certain extent our members have sat back and have got through it.
"But now their patience is worn out, they are worn out, we've got 47,000 members across the UK who are accessing foodbanks, we've got 40,000 members who are claiming in work benefits, we've got people paying for their energy bills on their credit cards, we've got people accessing pay-day loans even in the Scottish devolved sector who are slightly better paid than their UK counterparts.
"We do have a bit of a crisis going on here."
Colin Smyth, Scottish Labour's constitution spokesperson, was in attendance at the picket outside Holyrood speaking to workers.
He accused SNP colleagues of "hypocrisy", with several crossing the picket line as he spoke.
The South of Scotland MSP said: "There's a real hypocrisy within the SNP, yesterday they had a debate on worker's rights and today they are all crossing the picket line and ignoring those very same workers.
"It is once again an example of the SNP saying one thing and doing the other, and it does show they are not taking the strike action whether it be teachers or parliamentary staff seriously."
He called on the government to speak to workers to better understand their concerns and to get around the table, "get serious" and settle the pay dispute.
Mr Smyth added that it was "hugely frustrating" parliamentary business was continuing despite the strike action.
He said: "Labour put forward a motion to try to stop that, it would have been very easy to have moved parliamentary business to other days. It's already severely restricted because witnesses can't give evidence to committees, for example.
"Everybody should have been on the picket line giving support and actually speaking to the workers face to face.
"I think if politicians spent a bit more time on picket lines actually speaking to workers they would find out what their concerns are and that might actually help resolve it in the end."
Want to hear more from The Scotsman's politics team? Check out the latest episode of our political podcast, The Steamie.
Comments
 0 comments
Want to join the conversation? Please or to comment on this article.