Michael Russell to quit Holyrood at next election
Michael Russell, the veteran SNP politician and Nicola Sturgeon's current Constitution Secretary, has announced he is quitting frontline politics and won't contest his seat at next year's Holyrood elections.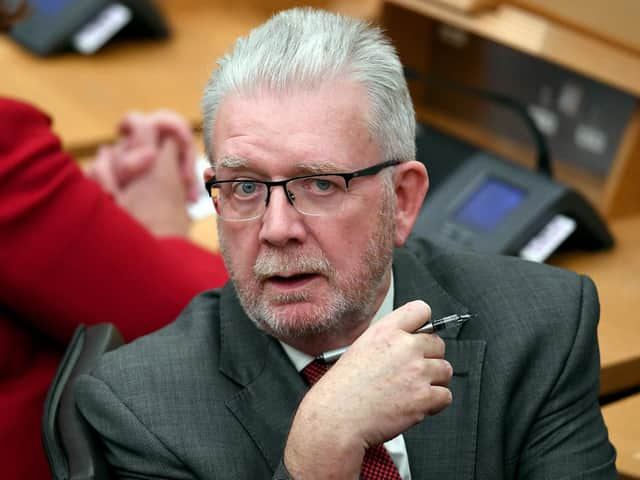 Mike Russell, the Scottish Government's Constitution Secretary is to stand down from Holyrood at the next elections.
The Argyll and Bute MSP, considered to be one of the SNP's "big hitters" has told his constituency party that he will not seek re-selection as their candidate in the 2021 Scottish Parliament elections as he will be 72 by the end of the next parliamentary term.
His decision will be a blow to Ms Sturgeon who has relied on his counsel as Brexit Secretary, and just this month broadened his remit to include Europe, external affairs and the constitution as part of her controversial plan to hold a second independence referendum this year.
Mr Russell said: "I have been the MSP for Argyll and Bute since 2011 and it has been an enormous privilege as well as a greatly enjoyable task.
"However I will be 67 this summer and 72 at the end of the next Parliament. Argyll and Bute is a massive area to cover – with 23 inhabited islands and a large swathe of the mainland – and I am getting to the stage of thinking that someone younger would be better able to fulfil all the demands of the constituency. It is, I think, much better I say that now than wait for someone else to do so."
He added: "I am proud of the work the SNP in government has done in Argyll and Bute, securing much new investment, supporting individuals and communities. I am also proud of the work that we as a party have done in government, including the tasks that I have undertaken in my ministerial roles in education, culture, the environment and in improving electoral law.
"Of course, my biggest challenges have been those I have faced since August 2016 when I was tasked by the First Minster with attempting to secure Scotland's place in Europe and to make Scotland's voice heard in Whitehall.
"There is no doubt that we are now faced with the most hostile, arrogant, heedless and thoughtless UK Government in many generations, which is determined to have its own way no matter what the people of Scotland want or vote for. It has been particularly distressing to have to see Scotland dragged out of Europe against our will by them – though that is something I am sure we can reverse before too long."
Mr Russell is a former chief executive of the SNP and contested the party leadership in 2004 prompted by John Swinney's resignation, but he finished third behind Alex Salmond and Roseanna Cunningham.
He said: "After next May I still intend to be active in the political sphere. I think of my decision as stepping back from some current roles, not stepping away from my commitment to our country and the better future it can have and should choose.
"Independence is so much closer than it was when I first voted for the SNP 46 years ago. I hope I have contributed something to that success and I still hope to contribute more but in a different way and role."
Want to join the conversation? Please or to comment on this article.