Michael Matheson 'still faces serious unanswered questions' over £11,000 iPad bill
The health secretary agreed to pay back the full cost last week following sustained pressure
Health secretary Michael Matheson still faces "serious unanswered questions" over an £11,000 data roaming charge he incurred on his parliamentary iPad while on holiday, the Scottish Conservatives have said.
The senior minister agreed to reimburse the full cost at the end of last week after coming under sustained pressure over the bill.
He said he had "reflected long and hard" and would now pay back the full amount of £10,935.74, which he built up during a week-long visit to Morocco around Christmas last year.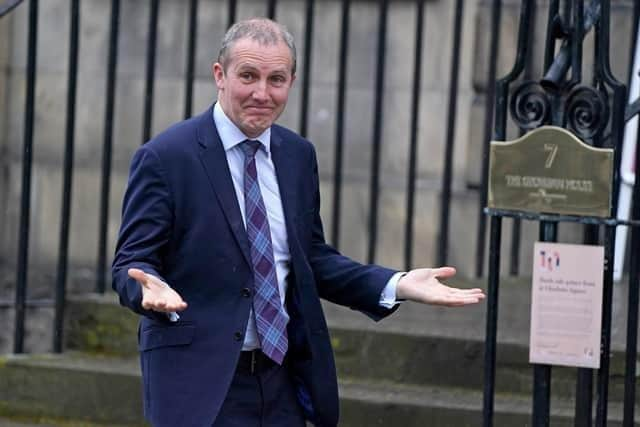 Mr Matheson was reportedly warned almost a year earlier to update his device, which had not been switched to Holyrood's new data provider.
He initially said he would contribute £3,000 towards the cost from his expenses budget while the Scottish Parliament paid the rest. He said the device had been used for parliamentary business.
However, opposition politicians insisted taxpayers should not have to foot the bill.
The Scottish Tories have now written to Mr Matheson requesting "clarification" on a number of issues. They called for the publication of all correspondence with the Scottish Parliament on the expenses and the need to update the iPad's Sim card.
Party chairman Craig Hoy also called for Mr Matheson to make a statement to the Scottish Parliament on the matter.
He said: "When Michael Matheson was belatedly shamed into repaying the staggering sum that he had the audacity to expect the taxpayer to foot, he told us that his integrity matters. Therefore, he must immediately hand over his iPad so that Parliament authorities can verify his claim that he only incurred roaming charges related to parliamentary business during his Moroccan holiday.
"Mr Matheson has many serious unanswered questions to address, which is why I have written to him requesting that he make a statement at Holyrood this week so that we can get to the bottom of this scandal. A failure to answer these questions will further add to the public's suspicion that Michael Matheson has something to hide over this scandal."
Speaking to journalists, Mr Matheson insisted Holyrood authorities had already investigated the matter.
Asked if any personal use had been included in the bill, he said: "No, as I made very clear on that, and Parliament investigated this issue, keep in mind, back in January, where one of their senior IT officials looked into its use as well and came to a view on this matter, and that's why an agreement was reached at that particular point.
"Notwithstanding that though, I want to put the question beyond any doubt whatsoever, and that's why I took the personal decision, as I said in my statement on Friday, that I'll reimburse the Parliament for the full cost of that, so there's no questions about what it was used for."
Comments
 0 comments
Want to join the conversation? Please or to comment on this article.