Michael Matheson iPad bill: Minister 'confident' in his record and focusing on health secretary role
Michael Matheson has again been quizzed over key details in the wake of a personal statement on the £11,000 bill linked to his parliamentary iPad
Michael Matheson has said he is "confident" in his record as health secretary, as Scottish Conservatives continue to push to hold a vote of no confidence in him after he ran up a bill of almost £11,000 on his parliamentary iPad.
The health secretary has come under fire over the data roaming charges this month, making an emotional statement to MSPs in which he revealed his teenage sons had racked up the costs by using the device to watch football while on a family holiday in Morocco.
But with journalists also raising concerns that Mr Matheson may have lied to the press about the matter, Scottish Conservative leader Douglas Ross said that a "significant number of questions remain wholly unanswered".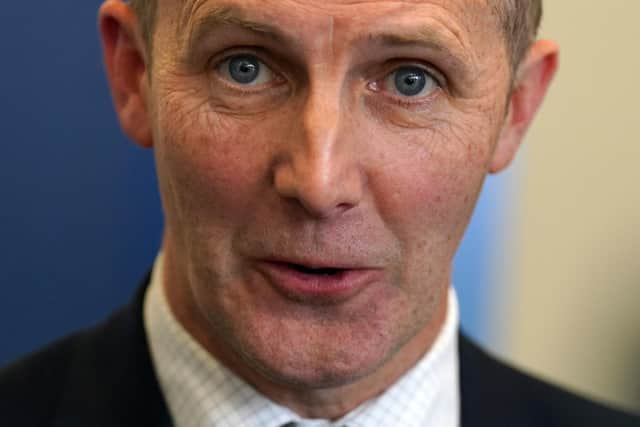 On Monday last week he blamed the high charges, which saw more than £7,000 worth of data used in one single day, on an outdated Sim card, insisting to the press there had been no personal use.
However, he told Holyrood on Thursday the bill was caused by his sons using the iPad as a hotspot so they could watch football while on holiday.
He said when he learned that had happened, he agreed to repay all the charges to the Scottish Parliament.
Questioned on the matter after chairing NHS Forth Valley's annual review, the health secretary said he had set out what happened in "great detail in my personal statement to Parliament".
Asked directly if he had lied to the press, Mr Matheson stated: "I set out all the circumstances and explained the way in which I'd handled it in the course of my personal statement last week."
However, he said he was now "focused on making sure I do my job as health secretary in supporting the health and social care system in Scotland" over the winter period.
With Scottish Tories still threatening to bring a vote of no confidence, Mr Matheson said: "I'm confident in standing on my track record as health secretary and what I've done over the course of the last eight or nine months."
Here he highlighted recent increased investment in both the Scottish Ambulance Service and the hospital at home scheme, which allows for patients to receive hospital-level care in their own home, as well as the Scottish Government's success in avoiding strike action by NHS workers.
However, the Tories accused Mr Matheson, Scottish First Minister Humza Yousaf and Deputy First Minister Shona Robinson of "largely avoiding scrutiny" over the issue since the health secretary's statement.
Mr Ross said: "Michael Matheson might have run up this eye-watering bill, but he cannot continue to run away from this scandal." The Scottish Conservative leader said the health secretary had "lied to the press and public over whether this parliamentary device had been used for personal purposes".
Mr Ross added: "His personal statement last week allowed a severely limited time for questioning. A significant number of questions remain wholly unanswered.
"That is why my party is calling for a substantial amount of parliamentary time to be set aside to allow Michael Matheson to make another statement and for us to be allowed extensive questioning to get answers."
The Tory insisted the public had "lost confidence in the health secretary", adding: "Until he resigns, or Humza Yousaf does the right thing and sacks him, my party will continue to use every method possible in Parliament to hold Michael Matheson to account for his lies and lack of answers."
A spokesman for Mr Matheson said: "Mr Matheson is focused on his responsibilities as Scotland's Health Secretary ahead of what is expected to be a challenging winter for the health service."
He added: "The Scottish Parliament's timetable is a matter for the parliamentary bureau – the Conservatives have their own opportunities to bring issues forward."
Speaking to BBC Radio 4's Broadcasting House programme on Sunday, the First Minister defended Mr Matheson as a "man of integrity", and added: "For me, Michael – who I've known for well over 15 years – is a man of integrity, honesty.
"He should have handled the situation better, Michael knows that and he's apologised for that."
However, Mr Yousaf said the health secretary did not mislead him over the issue.
Comments
 0 comments
Want to join the conversation? Please or to comment on this article.