Michael Gove accuses EU of trying to 'tie UK's hands indefinitely' but insists he wants a deal
Michael Gove has accused the EU of trying to "tie our hands indefinitely" but insisted he is still hopeful of a deal.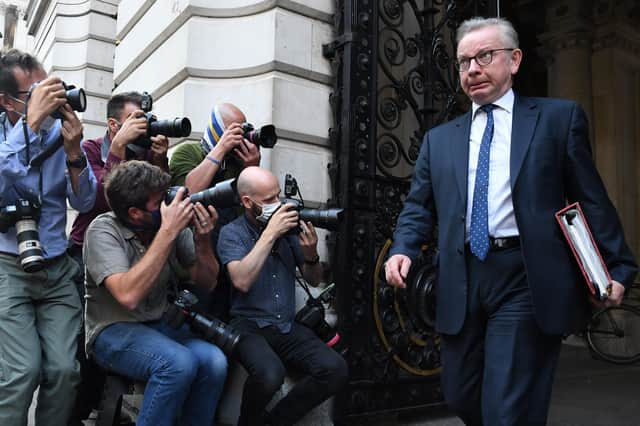 Michael Gove insisted the UK Government was still hopeful of a deal
The UK Government Minister called for a change of approach from Brussels, and demanded the European body make moves to "show they are serious" two days on from the Prime Minister declaring an agreement was unlikely.
Appearing on the Andrew Marr show, the Vote Leave convener today left the door "ajar" for movement in the talks and urged a compromise.
He said: "It was the case we were making progress but then the EU retreated from that.
"We have drawn the conclusion that unless their approach changes, they are not interested and they have in effect drawn stumps."Mr Gove accused the EU of not taking negotiations seriously, and insisted the threat to leave without a deal was not simply posturing.He said: "What we have seen is the EU side not being willing to produce a detailed legal text and intensify talks to suggest they are serious.
"I want a deal, and am working to conclude one but it takes both sides to compromise in order for there to be one.
"The EU side is not doing so at the moment, if the choice is between accepting a deal where our hands our tied indefinitely and we don't have control over our waters, or leaving and being clear that we are honouring the mandate the British people gave us to take back control, then we have to take back control."
The Chancellor of the Duchy of Lancaster insisted the UK was now preparing for "Australian terms", which would see trade be done under World Trade Organization rules.
He said: "That is not going to be a picnic.
"The key thing is we are taking the steps alongside business to be ready for that outcome.
"The steps that business needs to take whether or not we have a Canada-style free trade agreement or we leave on Australian terms are very similar and ... business has risen to that challenge in a very pragmatic way."
On Friday First Minister warned that such a scenario would be "disastrous" for Scotland's beleaguered economy, which is still struggling to recover from the impact of coronavirus.
Speaking at her daily briefings, Nicola Sturgeon said: "It is beyond belief that in the midst of a global pandemic and deep recession the Prime Minister is telling Scotland to get ready for a disastrous no-deal Brexit.
"With less than three months until the end of the transition period, businesses and people across Scotland will be in despair at this extraordinary statement.
"At best this is reckless brinkmanship. At worst it means the UK Government is now actively pursuing a no-deal outcome.
"The reality is Scotland's economy is going to be damaged by a further needless hit to jobs at the worst possible time, with either a thin trade deal or no deal now the only possible outcomes."
Ms Sturgeon added she was "deeply frustrated and depressed" at the latest impasse.
Want to join the conversation? Please or to comment on this article.