Met Police expresses 'regret' over protester arrests ahead of King's coronation
Scotland Yard has expressed "regret" over the arrests of six anti-monarchy protesters ahead of the King's coronation after being threatened with legal action when no charges were brought.
Republic chief executive Graham Smith said a chief inspector and two other Metropolitan Police officers personally apologised to him over what he called a "disgraceful episode" after they visited him on Monday evening.
Prime Minister Rishi Sunak had earlier backed the Met over the dozens of arrests of protesters amid concerns they were cracking down on the right to protest.
London Mayor Sadiq Khan requested "further clarity" from Scotland Yard, saying that the right to peaceful protest is an integral part of democracy.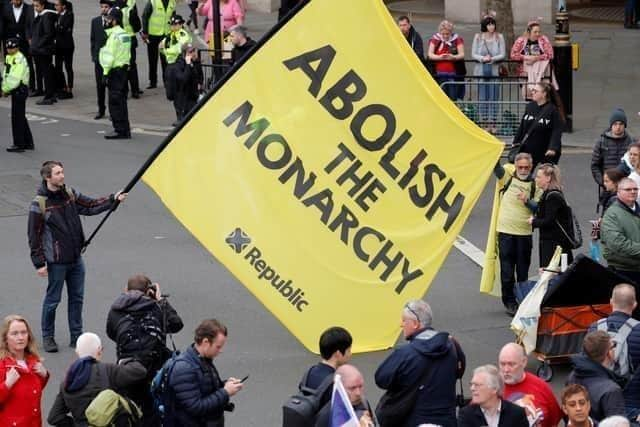 The Met issued a lengthy defence as it confirmed Mr Smith and five others have been told they face no further action after being stopped at 6.40am on Saturday.
The force said it had arrested the group using new powers under the much-criticised Public Order Act after it was believed items found alongside a large number of placards could be used as "lock-on devices" to cause disruption.
"Those arrested stated the items would be used to secure their placards, and the investigation has been unable to prove intent to use them to lock on and disrupt the event," the statement said.
"This evening, all six have had their bail cancelled and no further action will be taken.
"We regret that those six people arrested were unable to join the wider group of protesters in Trafalgar Square and elsewhere on the procession route."
Mr Smith said the three officers apologised to him at his home in Reading, Berkshire, before handing back the straps for the placards they arrested him over.
He told the PA news agency: "They seemed rather embarrassed, to be honest.
"I said for the record I won't accept the apology. We have a lot of questions to answer and we will be taking action."
Scotland Yard said 52 of the 64 arrests made during its coronation operation on Saturday related to concerns individuals were going to disrupt the pageantry.
So far, four charges have been brought.
The force insisted its action was "targeted" at those believed to be "intent on taking this action".
"Any suggestion all protest was prohibited is not correct," it added.
The force acknowledged that at least one of the six people arrested while unloading placards from a vehicle in St Martin's Lane had engaged with its protest liaison team, but said those officers were not present during the arrest.
"Taking into account the information that people were seeking to seriously disrupt the event, and the significance of the security operation, officers had been briefed to be extremely vigilant and proactive," it said.
Mr Smith had told PA the speed in which they dropped any action against the group showed officers were aware "they had made a very serious error of judgment".
"I'm obviously relieved they dropped it so quickly but very angry they even went down this road, robbing people of their liberty for absolutely no reason," he said.
"There was no evidence of any ability or intent to commit any offence and they simply decided to arrest us and that is outrageous."
Mr Sunak had defended Scotland Yard's operation and denied officers were acting under pressure from ministers.
"The police are operationally independent of Government, they'll make these decisions based on what they think is best," he told broadcasters during a visit to Hertfordshire.
"Actually, I'm grateful to the police and everyone who played a part in ensuring that this weekend has gone so well, so successfully and so safely, that was an extraordinary effort by so many people and I'm grateful to them for all their hard work."
But Mr Smith believed officers had "every intention" of arresting demonstrators and used the straps as a "pre-text" to detain the group under the new powers making locking-on to an object a jailable offence.
Labour mayor Mr Khan tweeted: "I've requested further clarity from the Met. While it's vital the police are able to keep us safe, it must be balanced with protecting the right to peaceful protest – an integral part of democracy.
"Londoners will want swift reassurance any lessons to be learned will be learned."
Mr Smith raised fresh concerns about the Public Order Act signed into law last week, which tips the balance against protest, including by lowering the definition of "serious disruption".
Labour was not committing to repealing the act despite harbouring concerns about its use.
Ken Marsh, head of the Metropolitan Police Federation representing officers from the rank of constable to chief inspector, said police were acting both lawfully and "impartially".
"Protesting can take place in this country but it's the level to which you want to perform that protest that we have to balance and deal with what's put in front of us impartially. That's what was done," he told Today.