Media at fault for continued questions about my views on equal marriage, says Kate Forbes
Kate Forbes has claimed the media are to blame for any continued interest in her views on social issues such as equal marriage, swerving questions that her positions are hypocritical.
Speaking to the BBC's the Sunday Show, the finance secretary refused to engage with the substance of questions about how her personal views of faith would interact with her policy positions, blaming the media for simply asking the questions.
The leadership contender, which a recent poll put slightly behind rival Humza Yousaf among members, said her track record should allow people to "trust" her to deliver policy "that serves all of Scotland.
However, under questioning from the BBC's Martin Geissler, she appeared to blame the media and journalists for repeated questions on the matter when the BBC journalist suggested her views would create "big problems for you".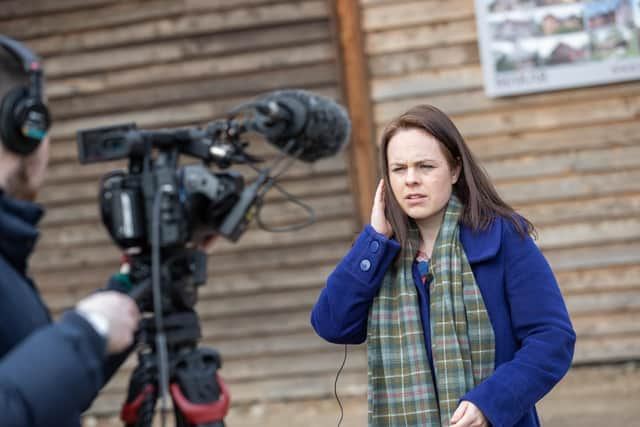 "Mostly because journalists want to keep going back to those problems," she said.
"I've answered those questions comprehensively and I would appeal to people to recognise that in the last few years I have served all of Scotland's people faithfully and that would be my commitment to going forward."
She had previously pointed to her record as finance secretary and as an MSP, stating: "Look at my track record of six years on the front line, serving constituents...being relected on two occasions with an increased share of the SNP vote, delivering budgets that don't make any distinction but serve all of Scotland's people.
"If you can trust me to deliver a national budget, I think you can trust me to make policy that serves all of Scotland."
Asked on how she could state that having said gay people should not be treated the same way as straight people, Ms Forbes claimed that: "Underpinning my whole approach to politics is a belief in the inherent dignity of every human being."
Pressed again on how she could say that given her policy position on equal marriage, she again attacked the fact the questions was being asked at all.
She said: "I recognise that you want to take the conversation back to the issues that I have comprehensively addressed.
"We are now into a debate and that debate is looking at a whole host of different issues that people care about.
"Ultimately we are in a contest...and I have confidence in SNP members to decide who they want to lead their party. If they choose one of the other extremely able candidates, I will absolutely get behind those candidates and back them because I respect the democratic process and I respect the fact the debate has been carried out in a fair and open and honest fashion."
Want to hear more from The Scotsman's politics team? Check out the latest episode of our political podcast, The Steamie.
Comments
 0 comments
Want to join the conversation? Please or to comment on this article.