Matt Kerr: Labour must sort out its position on indyref2
Our constitution is a complete dog's breakfast, says Labour's Matt Kerr.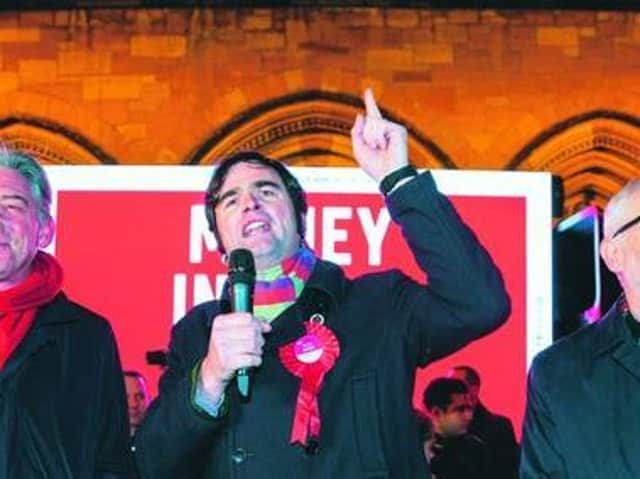 Matt Kerr says UK constitution is a dog's breakfast
Others can argue about it being codified or not, or how far we've gone down that road, or not; but one thing is blindingly obvious; it is failing.
A failing constitution can mean a few things of course, from facilitating coups to parliamentary gridlock. Whilst we've had a little of that over the years, there is little doubt that it is failing now and it is getting in the way of progress for those desperately in need of a progressive, Labour Government.
Constitutions should sit in the background, providing a framework for governments to operate in, and to support the rights of citizens. However, when it becomes the only subject of political debate for over a decade it succeeds in delivering neither.
People like me have argued for years that we need to move on. Our public services have been crippled through a combination of Tory austerity, and SNP negligence over these years, but still it rumbles on.
My political persuasion likes active government, but while we all chunter on about the constitution it's become de rigeur to talk about what governments can't do and then we gather round and scratch our heads at why people feel alienated from politics.
Talk of a second referendum on separation upticks in time with the electoral cycle, just in time to ignore the Scottish Government failure in Education, Health, and their cuts to our local authorities to deliver essential services.
This doesn't just suit the SNP though. The symbiotic relationship between the two nationalist parties, SNP and the Tories, should be obvious to anyone who cares to take a glance. The phoney war over another referendum is a convenient diversion for them both from their abysmal record in their respective governments and Labour should not play the game both the Tories and SNP want to play.
So where should Labour sit in this world? The party of devolution has never really got to grips with it, leading to years of decline, reaching its denouement at the 2015 General Election, when we lost the biggest proportion of our voters at that election, down over 300,000 from 2010.
Lining up with the Tories on the Better Together campaign, at the same they were unleashing cruel and callous attacks on our people, their living standards and public services, has been catastrophic for the Labour party. Make no mistake, supporting Scotland staying within the UK is a position I'd take again, but the case must be unashamedly based on our politics of democratic socialism, of solidarity, and organising our politics at the same level as the economy is organised, and we should never again stand in anyone else's shadow.
We should never again allow ourselves to be manipulated by our political opponents in the SNP and Tories as we were in 2014 – we must move forward confident in our case and in our politics. We cannot achieve that however if we simply revert to repeatedly saying "no and never" to a second referendum.
As a party that argued for a second referendum on Brexit just three months ago, it is not only logically inconsistent but more importantly, as democratic socialists, we should not get ourselves in the position of denying and or seen to be blocking a democratic process and lining up with Boris Johnson to deny another vote if that is what people truly want. Labour, our whole party and wider movement, has some thinking to do though. We must consider where we sit on another referendum and what constitutes a mandate? Should there be a third question on a future ballot? What safeguards can be put in place to ensure that we don't have a repeat of some of the farcical claims made in previous campaigns (Mr Johnson's magic £350m bus springs to mind) aren't repeated? Moreover, if there was a vote that supported separation, would another vote be required or desired on the "deal"? These and many more questions need answers if people are to make an informed decision.
This is why I support a special Labour conference on the matter. Specifically, such a conference should consider our thoughts on another referendum and, given we believe in neither the status quo nor independence, we should thrash out our proposal on a third option and what that would be. We have long argued for federalism and now we have two of the front runners in our UK leadership contest making this case, we need to consider what this looks like; its prospects and what new powers we believe should come to the Scottish Parliament in the here and now.
Some in the SEC rejected the idea of a special conference to discuss the constitution and our approach to it. I disagreed with that decision then and I still do now. Our members see themselves as socialists. They do not consider themselves as either unionists (other than as trade unionists) or nationalists. They have expressed this repeatedly, including in the course of another review after the 2016 election.
We should allow our members to once again make their views known and we should be directed by them. We should not be directed by those who say they speak on behalf of the members and argue against giving our members a say when they know full well the findings of recent surveys of our members may not tally with their own thoughts and vision to the constitutional question.
Our members must be at the heart of policy and political direction. We should not be afraid of our own internal democracy, nor should we turn away from wider democratic processes. Putting our members at the heart of things would be something I would see as the norm if and when I become Deputy Leader.
Our party's strength is its diversity of ideas, and its unity of purpose. We should not be afraid of that. Let's have the discussion, let's have the debate, let's show the people of Scotland that we can listen, and let us showcase our vision for the democratisation of our economy, of Scotland and indeed the UK. Until we do, the SNP and Tory governments will continue on their danse macabre, and the whole country will be continue to be the poorer for it.
• Matt Kerr is one of the candidates vying to be Scottish Labour deputy leader
Want to join the conversation? Please or to comment on this article.