Matt Hancock responds to criticism after appearing in the same Newcastle United shirt he auctioned off for charity
Matt Hancock has responded to critics over his auctioning off of a signed Newcastle top - after appearing in the top three years after it was sold.
A TikTok video from the I'm a Celebrity contestant ahead of the Manchester United v Newcastle cup final saw him address followers in a signed Newcastle shirt he had auctioned off to raise funds during the Covid-19 pandemic.
Many were quick to point out that the signature was in a similar place to one he had reportedly sold by Hancock for charity – with the MP responding to the criticism.
The shirt was offered up to raise money for charity in May 2020 with Hancock saying at the time: "This shirt was gifted to me by Uncle Dave. It was because of him that I am now a lifelong supporter and fan of Newcastle United.
"Signed by the team. The top has [been] seen hanging behind me on the bookshelf during many of my Skype interviews - I will sign it for you also if you like."
According to Chronicle Live, the MP's sale of his "pride and joy" raised £1,850 for Scrubs Glorious Scrubs, a group making non-surgical scrubs for NHS workers – with Ant and Dec, Rod Stewart and others amongst those to donate items to help raise funds.
The former Health Secretary insisted that he did sell his Newcastle United shirt for charity, but that it was gifted it back by the buyer.
Speaking to LBC, a spokesperson for Matt Hancock said: "Matt put his signed Newcastle football shirt up for sale as part of Chris Evans' NHS charity appeal to raise money for scrubs, but the person who bought it very kindly gave Matt's beloved shirt back to him as a gift."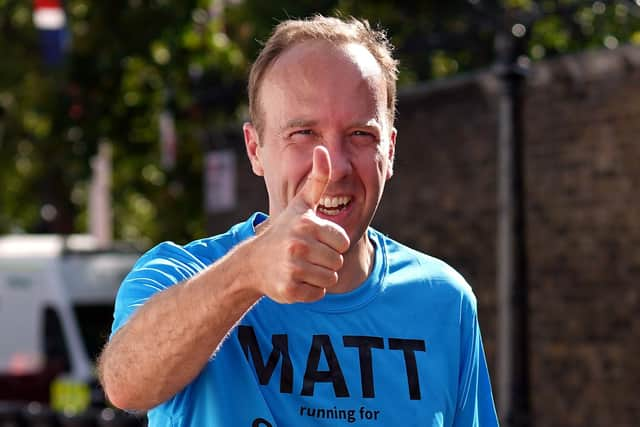 Hancock also took to TikTok to address the criticism stating: "A load of people have been in contact about my shirt that I was wearing last night and they spotted that it's the same one that I auctioned for charity a couple of years ago.
"What happened was, the guy that bought it then gave it back to me as a gift, which is really kind of him, I'm very grateful. So I've still got my beloved signed shirt."