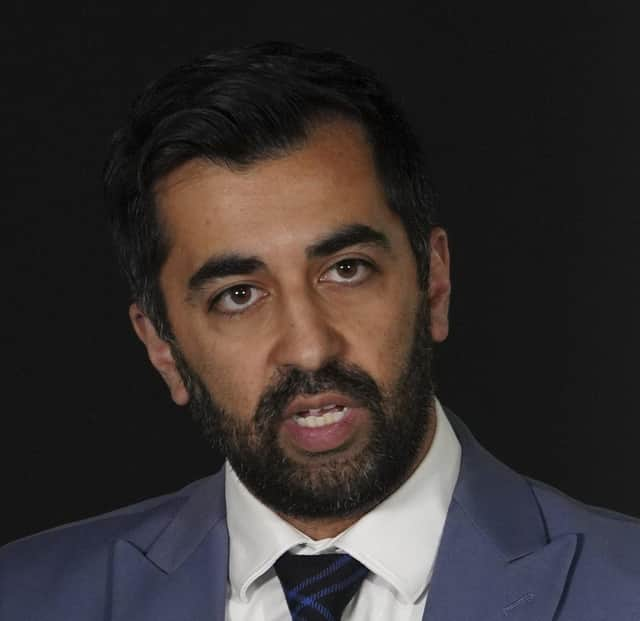 Justice Secretary Humza Yousaf
More than two-thirds of Scots oppose controversial measures at the heart of proposed new hate crime laws.
And 90% of the public north of the border say free speech is an "important right" while two-thirds believe disagreement and debate "benefit society" according to a new poll.
Campaigners opposed to the Hate Crime Bill which is currently going through Parliament warn it could undermine "fundamental freedoms" and called on ministers to ditch the most contentious parts of the legislation.
"This poll confirms what we've long suspected," said Jamie Gillies of the Free to Disagree campaign.
"The majority of Scots strongly support freedom of speech and, as a result, people are very doubtful about the more controversial aspects of the Hate Crime Bill."
The legislation has prompted concerns that comedians, actors in plays or even panelists on shows like Question Time could fall foul of its provisions.
This stems from the "stirring up of hatred" provisions in Part 2 of the bill which do not require "intent" for an offence to be committed, while the term "hatred" in the draft legislation has been branded vague and open to abuse.
Almost 7 in 10 (69%) of Scots agreed that "for a criminal offence to be committed, there must be a proven intention to stir up hatred", according to the Savanta ComRes poll of 1,008 Scottish adults between August 6 and 13. In addition, three-quarters (75%) of respondents said that the term "hatred" means "different things to different people", according to the research commissioned by Free to Disagree.
Mr Gillies added: "Given the major disquiet over this legislation from professionals and the public alike, we'd advise the government to think again. There's no shame in admitting there are problems with the Hate Crime Bill and hitting the pause button, or ditching it altogether. In fact, we think this would be welcomed by the majority of Scots.
"The government should pay very careful attention to the concerns being raised. Getting this legislation wrong could have serious consequences for our fundamental freedoms."
The polling shows that almost nine in 10 (87%) think free speech is an "important right", while 63% think disagreement and debate "benefit society" and 73% think disagreement is not a sign of hatred.
The crime writer Val McDermid, one of Nicola Sturgeon's favourite authors, pro-independence comedy actor Elaine C Smith and Blackadder star Rowan Atkinson were among 20 high-profile artistic figures who recently signed an open letter raising concerns that the legislation could stifle "freedom of speech."
The legislation has also prompted fears that the current clashes between feminists and trans campaigners may result in those getting involved in public exchanges on the issue, such as author JK Rowling, being criminalised. Justice Secretary Humza Yousaf denied this last week.
The polling shows almost half (48%) of respondents disagreed that it should be a criminal offence to "say someone born biologically male cannot become a woman" while 21% agreed.
More than half (51%) of respondents agreed it should not be a criminal offence to "disagree with same-sex marriage", while (20% disagreed.
A Scottish Government spokesperson said: "The views offered on the Bill will be considered carefully and we will seek common ground and compromise, where necessary. It is important to stress that the Bill does not seek to stifle criticism or rigorous debate in any way.
"People can express controversial, challenging or offensive views as long as this is not done in a threatening or abusive way that is intended or likely to stir up hatred. The Bill includes explicit provisions on protection of freedom of expression.
"England, Wales and Northern Ireland all have laws in place criminalising stirring up hatred in relation to religion and sexual orientation while Northern Ireland's law also covers disabilities. The law should protect vulnerable groups. We will fully consider the views collected in the consultation and engage with key stakeholders."