Lockdown fines could be waived for parents amid Cummings furore
Ministers have scrambled to repair the damage from the controversy surrounding top Downing Street aide Dominic Cummings, with the Health Secretary suggesting lockdown fines could be waived for parents who travelled in search of childcare.
Matt Hancock also appealed to the public to do their "civic duty" by respecting orders to isolate once track and trace procedures come into force next week, amid growing concern the row over Boris Johnson's top aide could undermine trust in public health measures.
It came as dozens of Conservative MPs kept up the pressure on Number 10 to sack Mr Cummings, with the junior Scotland Office minister Douglas Ross becoming the first to resign from the government.
Mr Johnson is due before a powerful committee of MPs this morning, and will be grilled on contradictions in his top aide's narrative. Downing Street clarified that Mr Cummings' wife Mary Wakefield did not have symptoms of coronavirus when she first reported feeling ill, raising questions about why the family's 260 mile journey to Durham was necessary.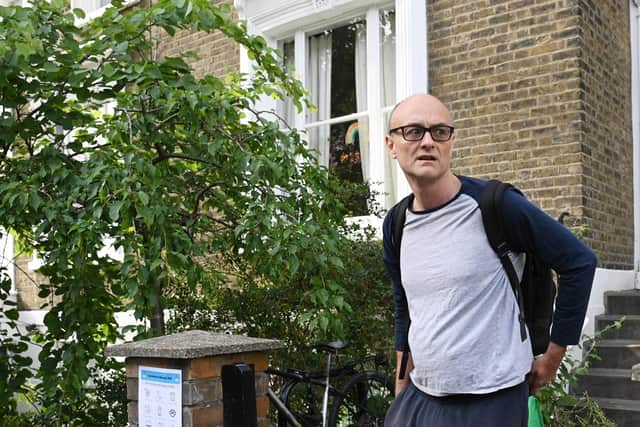 A series of polls yesterday suggested Mr Johnson's administration was faltering in its response to the controversy, with Mr Johnson's personal approval rating plunging by 20 points in four days, and into negative territory for the first time since the virus outbreak.
A YouGov poll taken following Monday's extraordinary Downing Street press conference by Mr Cummings found that 71 per cent of people think he broke lockdown rules, while 59 per cent think he should resign – up from 52 per cent before the press conference.
Labour leader Sir Keir Starmer now has a higher approval rating than either the Prime Minister or Mr Hancock, while his party gained five points on the Conservatives in the latest polling, closing the gap to 13 points.
Mr Hancock appeared to be caught off guard when a member of the public – in an apparent reference to Mr Cummings' justification for his travel – asked whether the government would "review all penalty fines imposed on families travelling for childcare purposes during lockdown?"
The Health Secretary replied that he would take the issue up, saying: "We do understand the impact and the need for making sure that children get adequate childcare."
Downing Street was forced to distance the government from the comments, saying a review of the fines in England was unlikely.
The SNP's deputy Westminster leader Kirsty Blackman claimed ministers were "attempting to rewrite the rules to suit Mr Cummings".
"The Tory government is blowing all credibility by falsely claiming Dominic Cummings didn't break the rules – when there is indisputable evidence he did," Ms Blackman said.
"This is a false information campaign that would make the Kremlin blush. It is designed to gaslight the public into thinking we are too stupid to understand the truth.
"We've all been obeying these rules for months while the Prime Minister's most senior adviser has openly flouted them – and has shown no contrition whatsoever."
With test, track and trace procedures coming into force in England next week, potentially seeing thousands of healthy people asked to isolate to contain the virus, Mr Hancock insisted the controversy shouldn't affect the public's response.
"They're not doing it for me, people are doing this for their loved ones," he said. "If you're phoned up and asked to self-isolate even though you're perfectly healthy because you've been in close contact with somebody who's tested positive, then it's your civic duty to then self-isolate, for yourself, for your community, for your family, and we all need to come together to do this."
The Health Secretary added that he understood the "anger that some people feel" over Mr Cummings' actions.
Downing Street insisted the Prime Minister had not split his party by backing Mr Cummings as the number of Tory MPs calling for his dismissal climbed towards 40 last night – enough to overturn the government's majority.
One Scottish Conservative MP told The Scotsman they had received around 700 letters from angry constituents.
Communities Secretary Robert Jenrick told the BBC that his own postbag showed "many people still disagree" with Mr Cummings' actions and could not rule out further ministerial resignations.
Former attorney general Jeremy Wright called for Mr Cummings to quit, saying efforts to combat Covid-19 relied on "people accepting wholeheartedly not just the letter of the restrictions that have been set out, but also their spirit".
Former minister Robert Goodwill said: "The best way for the Prime Minister to show he's in charge is to relieve himself of Mr Cummings' services."
But Mr Cummings received badly needed support from the former health secretary and health committee chairman Jeremy Hunt, who said that while he had broken lockdown rules, the Prime Minister's aide should not be forced out.
Comments
 0 comments
Want to join the conversation? Please or to comment on this article.