Liz Truss mini-Budget: Former prime minister hits out at economists and says she wishes things turned out 'differently'
Liz Truss has hit out at economists and supposed "institutional bureaucracy" as she defended her mini-budget a year on.
The former prime minister used a speech at the Institute for Government think-tank on Monday to justify decisions made during her brief spell in Number 10, calling it unfair to say she had pursued unfunded tax cuts.
Ms Truss was forced out of office in October last year after the budget of £45 billion of tax cuts outlined by her chancellor Kwasi Kwarteng sparked an economic crisis.
Since then she has continued to defend and build on her brand of conservatism in a bid to find a solution to stagnant growth.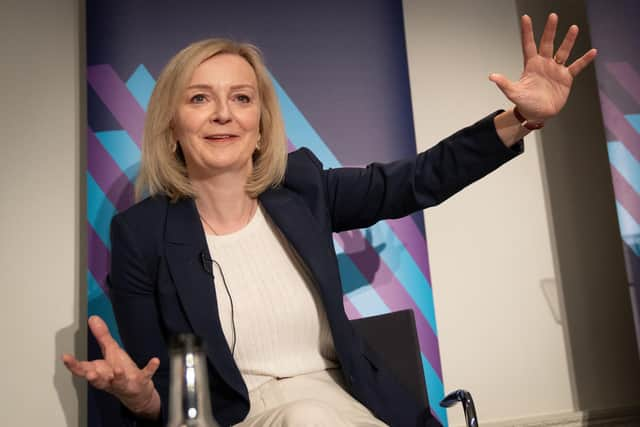 Pitched as her first significant intervention on the economy since leaving office, Ms Truss urged the Government to cut taxes, shrink welfare spending and raise the retirement age.
She declined to express regret about the consequences of her doomed package of £45bn of tax cuts last year and insisted it would only have made a "marginal difference" to the deficit.
"I admit the communication wasn't as good as I would want it to be," she said in the Q&A after her speech.
She said was in the "unusual situation" of a Tory leadership contest being followed by the death of the late Queen, adding: "Of course I would've wished things had turned out differently."
But she defended her policies, saying: "The tax cuts we were introducing were not major tax cuts, they would have made a fairly marginal difference in fact to the level of the deficit. What they were about was showing a new direction for Britain."
Her government felt pressured by the Bank of England into committing to a "counter-productive" U-turn on her tax plans, the former Tory premier said.
Ms Truss admitted she had never heard of the liability driven investment (LDI) pension funds that were hit by her mini-Budget until after the economic crisis struck.
"On the LDIs, there clearly wasn't enough information," she said. "So the fact that we were completely blindsided by LDIs ... I literally hadn't heard of what an LDI was until the following Monday, which was quite a large part of what happened in the market."
But she also blamed media organisations for failing to do a "brilliant job" of analysing the LDI crisis, singling out the BBC.
"I don't think there was an effective critique of the Bank of England and it really goes back to this point about institutions and politicians ending up having all of the responsibility, but not necessarily the power," she said.
Ms Truss railed against resistance against her plans from international economic bodies and Whitehall.
Asked about examples of when civil servants stopped her from fulfilling her goals, she said she was "writing a book about this", one of several instances of her plugging the upcoming release.
"Certainly as a politician, trying to deliver what I believed people had voted for, there was a lot of institutional bureaucracy in the way," she said.
"And even during the leadership election campaign, and maybe this did not make me popular with the OBR [Office for Budget Responsibility] and the Bank of England, I pointed out that there was an orthodoxy in Britain about economic policy and I tried to challenge that orthodoxy."
Comments
 0 comments
Want to join the conversation? Please or to comment on this article.