Liz Truss insists UK Government has had 'very tough' border measures during pandemic
Liz Truss has insisted the UK Government has had a "very tough" approach to the borders throughout the pandemic.
The international trade secretary has defended Boris Johnson's handling of the pandemic, which allowed people to fly into the UK without being tested for many months.
Appearing on Sky's Sophy Ridge on Sunday, Ms Truss claimed "you cannot hermetically seal" the UK.
She said: "We have been very tough on the borders.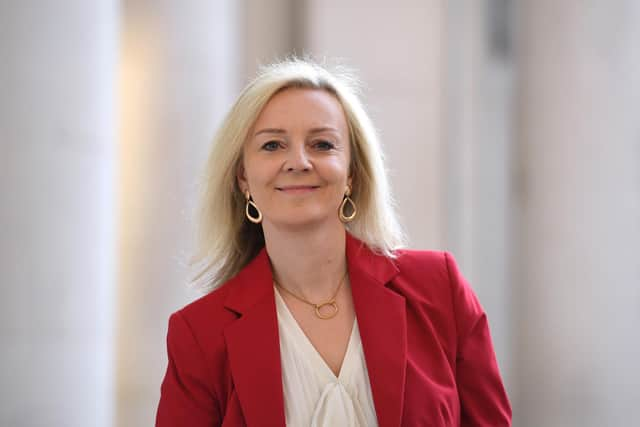 "In every case we are facing a choice of how do we deal with a virus that is changing and we need to protect lives and protect livelihoods, and recognise the UK is an open economy.
"We need to make sure we are protecting our borders, but at the same time we do need to make sure that the economy can continue to run and fresh supplies can be delivered to the UK.
"There's always a balance to be struck and you cannot hermetically seal the UK borders, that is not practical."
In mid-March, the UK abandoned asking people to quarantine for two weeks after arriving from areas with high infection rates, such as Hubei province in China and Italy.
The decision was in contrast to many other countries, such as New Zealand, which has been widely praised for getting the pandemic under control, partly through strict quarantine measures for arrivals.
The Cabinet minister cited travel corridors, travel bans and the pre-travel testing regime introduced weeks ago as strong measures that have been taken.
Her defence came during an interview that also saw Ms Truss refuse to deny reports that social distancing could last all year.
She said: "I don't want to make predictions about the situation in the autumn, I think it's far too far away.
"Long-term predictions in what is a very, very unpredictable situation are not wise."
She said: "One of the big mistakes we've made during this pandemic is not to close the borders.
"The virus is going to come in with different mutations from around the world unless we get this vaccine out. We should have closed the borders properly."
Ms Truss had separately guaranteed there would be no disruption to vaccine jabs coming from the European Union as she said it was "too early" to determine when the UK would send coronavirus vaccines abroad.
Ministers have agreed to a "reset" in relations with the EU after Brussels imposed export controls on vaccines, as the bloc continues to suffer supply shortages from parmaceutical giant AstraZeneca.
Brussels backtracked on a widely condemned move to override part of the Brexit agreement on Northern Ireland to control shipments of jabs, risking a hard border with the Republic.
Asked if she could guarantee the supply of Belgium-made Pfizer jabs would not be disrupted, Ms Truss told The Andrew Marr Show on the BBC: "Yes, I can.
"The Prime Minister has spoken to the president of the European Commission. She has assured him that there will be no disruption of contracts that we have with any producer in the EU."
If you haven't already, please consider supporting our trusted, fact-checked journalism by taking out a digital subscription.
Comments
 0 comments
Want to join the conversation? Please or to comment on this article.