The South West Norfolk MP resigned on October 22 last year after just 45 days following a disastrous tax-cutting budget that caused chaos in the financial markets.
Now Ms Truss has insisted she has no regrets over going for the top job, and promised to build an "intellectual base" for the pro-growth agenda she advocated for during her brief time in office.
Speaking to Spectator TV in her first wide-ranging interview since her premiership ended, the former prime minister also insisted she would not want to be in Downing Street again. She said: "No, I don't regret it.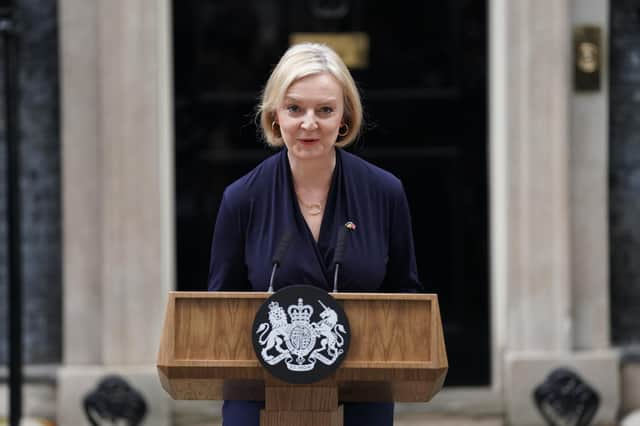 "I definitely want to be part of promoting a pro-growth agenda. I definitely want to carry on as an MP. I'm positive about the future of Britain and I'm positive about the future of the Conservative Party.
"I think we need to start building more of a strong intellectual base. But I'm not desperate to get back into Number 10, no."
Ms Truss also lamented the lack of voices calling for growth, despite a new group of Tory MPs forming to focus on it, made up of her allies. She said: "I would be more than delighted to have other people go out there and make the case.
"But the fact is there aren't enough people making the case, full stop. And I believe that I've learnt a lot in my time in Government. I understand what some of the pitfalls are, I've been through the mill on this."
Ms Truss broke her silence on leaving Downing Street on Sunday, where she blamed a "left-wing economic establishment" for forcing her out in a 4,000-word essay.
Doubling down on blaming others, the Tory MP also claimed her plans to scrap Rishi Sunak's corporation tax rise failed because the Office for Budget Responsibility (OBR) rejected her analysis that "raising taxes is counter-productive" and was "not actually going to lead to reducing debt".
She is now calling for the OBR to face greater scrutiny about the assumptions in its models given how much sway she believes they now hold over UK economic policy.
Ms Truss said: "The OBR and its position is taken very seriously by the market, so it effectively constrains what the Government can do. And by the way, I understand completely why the OBR was introduced. It's very important that forecasts are honest, but I think we have ended up in a place where they're done so separately of government that it ends up driving fiscal policy.
"I'm not saying that we should go back to the old ways of somebody putting their finger in the air, but I think there needs to be more discussion around the assumptions that are being made in the models".
During her tenure, Ms Truss sacked her close friend and Chancellor Kwasi Kwarteng due to the impact of their £45 billion package of unfunded tax cuts, which panicked the markets and tanked the pound. She claimed she was forced into acting, but couldn't say if it was the right decision.
Ms Truss said: "At the time, I was just thinking 'how do I make sure there's not a market meltdown?' So I wasn't really focused on my long-term future. I count Kwasi as a friend and what happened, it was a difficult decision. Was it the right decision? It's very hard to tell."
Responding on Monday, Downing Street insisted Mr Sunak would always listen to former prime ministers, but appeared to rebuff Ms Truss's claims.
A Number 10 spokesman said while Mr Sunak does not comment on former governments or prime ministers, "in broader terms, we value the scrutiny of independent bodies like the OBR.
He said: "The Chancellor is working closely with them in the lead up to the Spring Budget as you would expect. And they will have a role in providing independent, credible and high-quality analysis. We are making the fiscal decisions to get inflation down, which in turn will help us grow the economy."
The spokesman said Mr Sunak listens to all his predecessors. "Of course the Prime Minister will listen to all former prime ministers," he said.
"But you have seen that he has set out his priorities for the country and he is working hard on all of those. I think it is important to have diverse debate and that will continue and, like I say, he will listen to all former prime ministers."