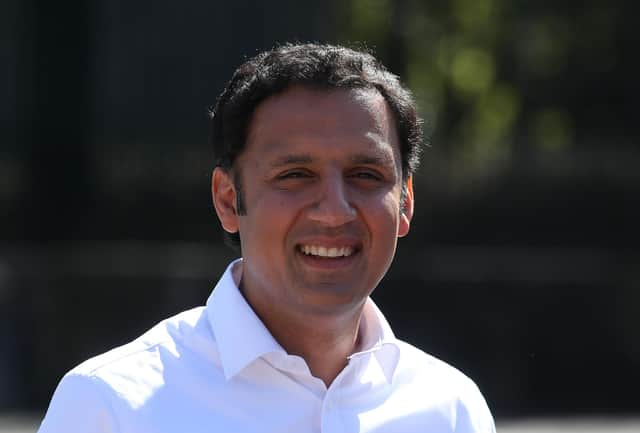 The Scottish Labour leader warned Thursday evening that the Union could not be saved through a "culture war", and demanded practical solutions to make the UK better.
The Scottish Labour leader warned on Thursday evening the Union could not be saved through a "culture war" and demanded practical solutions to make the UK better.
Speaking after Prime Minister Boris Johnson had set out his "levelling up" agenda in a major speech, Mr Sarwar claimed the UK would only thrive when the government recognised being a progressive and tolerant country.
He said: "You cannot save the Union with posturing and pursuing every fight in the culture war.
"Dividing our country for political gain is Boris Johnson's bread and butter, but it won't unite every part of the UK and it won't bring prosperity to a single part of this country.
"There seems to be an idea that jobs and social justice are either/or when it comes to levelling up.
"But making this country – all parts of it – the best place in the world to live means making everyone's lives better.
"Instead we've seen the grotesque farce of the most successful England football team in a generation being harangued by Conservative politicians for standing up for the values which bring our whole country together.
"Gareth Southgate's team brought together England fans because they won the hearts of a diverse and progressive country.
"They weren't just an example for England, but for the whole of the UK – a symbol of an outward looking and optimistic place."
Mr Johnson had earlier admitted the UK economy was "unbalanced" before the pandemic hit.
Speaking at the UK Battery Industrialisation Centre in Coventry, Mr Johnson criticised the unequal quality of life in different parts of the UK.
He said: "We need to say from the beginning that, before the pandemic began, the UK had and still has a more unbalanced economy than almost all our immediate competitors in Europe.
"And when I say unbalanced, I mean that for too many people, geography turns out to be destiny.
"Take life expectancy, even before Covid hit.
"It is an outrage that a man in Glasgow or Blackpool has an average of ten years less on this planet than someone growing up in Hart in Hampshire or in Rutland.
"I don't know what people do in Rutland to live to prestigious ages, who knows, but they do. There is glaring imbalance."
In a wide-ranging speech, Mr Johnson also hinted at extra powers to councils so they were on the same level as metro mayors.
He said: "We want local leaders to come forward, but obviously with these powers must come responsibility and accountability."
Mr Johnson also promised to empower strong local leaders by taking a more flexible approach to devolution, invest in infrastructure and connectivity, regenerate towns and high streets, and ensure people have the skills and training to get good jobs.
But the SNP's Westminster leader Ian Blackford accused Mr Johnson of being guilty of "meaningless, empty rhetoric", adding: "The fact remains that levels of poverty and inequality in the UK have risen to record levels on Boris Johnson's watch – and planned UK government austerity cuts will make this growing Tory poverty crisis even worse."
The independent Joseph Rowntree Foundation questioned how "levelling up" sat with cutting Universal Credit.
If you haven't already, please consider supporting our trusted, fact-checked journalism by taking out a digital subscription.