Appearing on BBC Radio Nottingham Lee Anderson was asked by radio presenter Verity Cowley about a video of him setting up a doorstep encounter during the 2019 election campaign.
The party's deputy chairman, was quizzed on a clip prior to the election when out with journalist Michael Crick which showed him taking a phone call on the campaign trail and setting up a doorstep encounter during the 2019 election campaign.
The BBC host stated that there "is a worry by some that you might be a bit dishonest," in relation to the clip which showed the MP telling a voter not to tell the film crew he is a friend when they knock on his door prior to the campaign, adding: "I'm talking about that video that you did where you asked a friend to pose as an anti-Labour swing voter."
In response on the pre recorded interview Anderson asked the presenter 10 times if she had ever told a lie.
When she states that all humans tell false truths to protect people and "I've never asked somebody to pretend to be something they're not just to further my campaign" Mr Anderson interjected stating: "So you're a liar, so you're dishonest
"We've established you're dishonest and you tell lies."
Last year the Ashfield MP made headlines for saying people needed to learn how to cook and budget "properly", rather than use food banks saying that there was "not this massive use for food banks in this country", and those who knew how to cook and budget could make meals for 30p a day.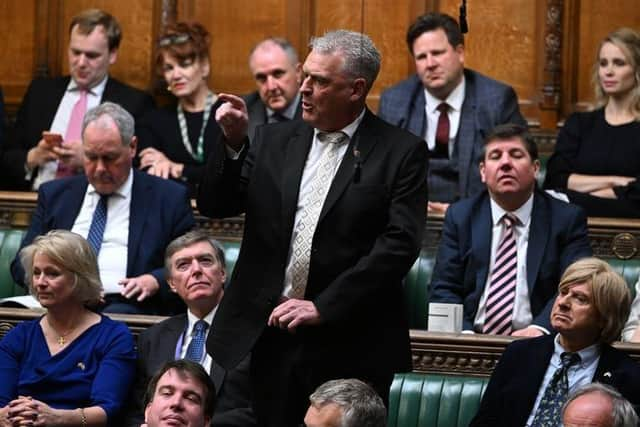 The interviewer then challenged him on the comments: "Even though nurses, firefighters, people who've got jobs are saying 'I need to use this' you don't believe them?"
Mr Anderson responded saying: "You bring them to me Verity, you get a fireman and a nurse in Ashfield and bring them to me and we'll do it on the show.
"I'd challenge you right now to find me a firefighter or a nurse in Ashfield that's using a food bank and I'll give you a year to find one.
"If you do find one, we'll work together with that person to find out why they need to use a food bank.
"Anyone earning over £32,500 in Ashfield using a [food] bank needs to come and see me but as yet, nobody has ever contacted me. They are the facts."
"They say I'm controversial but it's the media that stokes controversy by picking up on these sorts of stories," he added.
The MP concluded the pre recorded interview by asking the BBC host to run the clip in its entirety. When she explained that it would be edited down by a producer as it was over 11 minutes, the MP demanded that the clip was not used at all or used in its entirety adding: "I can't trust you to play the whole lot and be fair to me."