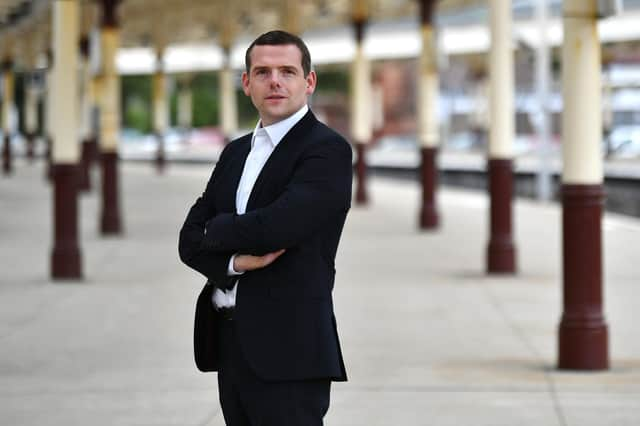 Douglas Ross has criticised moves to write off community service hours.
The confidential report by the Convention of Scottish Local Authorities (Cosla), leaked to the Scottish Conservatives, reveals criminals sentenced to community service have failed to complete over 700,000 hours of unpaid work and warns the community justice system could be "overwhelmed" if changes are not made.
As a result, the report says social workers have asked for 30 per cent – 210,000 hours – be cancelled, to which the Scottish Government has "responded positively".
According to the document, which was prepared to examine the impact of Covid-19 on the justice system, Cosla also asked the government to ban prison sentences of 12 months or less. Last year sentencing guidelines were changed to deter judges from handing out too many short sentences, but there was no outright ban.
Scottish Tory leader Douglas Ross said both moves would be a "betrayal of victims" and he warned sentencing could become a "meaningless sham" as well as undermining public confidence in the justice system.
The Cosla report, written this month, states: "Social Work Scotland [SWS] has estimated that the current backlog is approximately 700,000 hours of unpaid work. SWS state that some 450,000 hours will not be able to be serviced in any reasonable timeframe.
"Cosla recommended to the Scottish Government that they consider the SWS proposals believing that a reduction of around 30 per cent of unpaid work hours would be very helpful. The Scottish Government responded positively and is intending to use powers under the Coronavirus Act to allow the proposed reductions.
"The regulatory detail is still being worked and would apply the reductions generally except for certain categories of offences such as domestic abuse and sexual crime.
"The Scottish and local government are both likely to need to consider a total reduction of around 60 per cent of unpaid work hours – as originally recommended by SWS – to make the situation more manageable."
Mr Ross said: "The huge number of unworked hours is extraordinary, but behind these numbers are real people who face being cheated of justice.
"Victims will despair while criminals will rejoice. As a matter of urgency, the SNP justice secretary must explain what action he intends to take. If this is not dealt with, there is a real risk that sentencing will become little more than a meaningless sham and public confidence will be destroyed."
The report also reveals one of the options presented to Justice Secretary Humza Yousaf by Community Justice Scotland (CJS) is the "abolition" of short-term prison sentences of less than a year. It describes the proposal as "changes to legislation which remove the option of prison sentences of 12 months or less".
Mr Ross said: "The SNP Government could end up meddling with the independence of the judiciary by removing their discretion to impose appropriate sentences. This would be a tawdry betrayal of victims while allowing dangerous and violent offenders to escape meaningful punishment."
A Scottish Government spokesperson said: "We are not proposing a ban on sentences of a year or less. Our presumption against short sentences, which was backed by the majority of the Parliament and experts in criminology as the right approach to help reduce reoffending, was extended from three months to 12 months in 2019."
A message from the Editor:Thank you for reading this article. We're more reliant on your support than ever as the shift in consumer habits brought about by Coronavirus impacts our advertisers.
If you haven't already, please consider supporting our trusted, fact-checked journalism by taking out a digital subscription.