Leader: Will Humza Yousaf throw the Greens overboard to keep his administration afloat?
Humza Yousaf might be relieved to be escaping the maelstrom at Holyrood today by travelling to London to meet Prime Minister Rishi Sunak.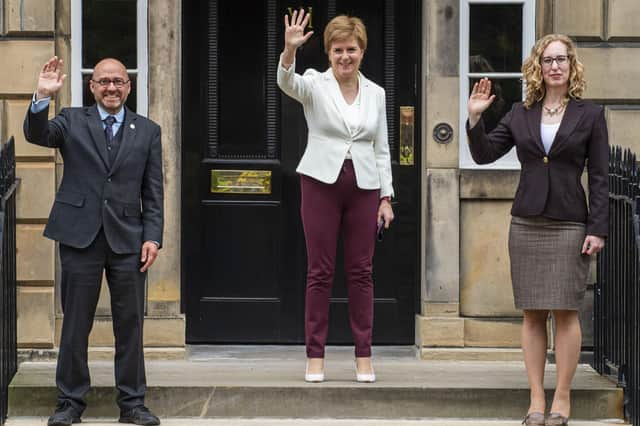 Less than a month after his narrow victory as "continuity candidate" in the SNP leadership contest, his efforts to present himself as a "fresh start for Scotland" have been overshadowed by each new development in the police investigation into his party's finances.
Mr Yousaf's task has been made all the more onerous by the SNP's power-sharing agreement with the Scottish Greens. It no doubt seemed like a good idea at the time to his predecessor Nicola Sturgeon, after the SNP failed to win a majority at the 2021 Holyrood election.
But the deal hastened her downfall, as the incoherence of her position on the Green's "red line" issue of gender self-identification became apparent with the housing of a double rapist in a women's prison.
With the Gender Recognition Reform (Scotland) Bill blocked by the UK government, other policies driven by the Scottish Greens now threaten Ms Sturgeon's successor and his administration.
Plans for a bottle and can deposit return scheme have been so badly drawn up and received the scheme has had to be delayed by six months.
Controversial proposals for a fishing ban in 10 per cent of Scotland's waters could be ditched after they were met with fury from coastal and island communities.
And the Scottish Government has been accused of compounding the housing crisis by restricting the supply of available homes with the introduction of rent control laws in the wake of the SNP/Green deal.
Mr Yousaf will want to set out his vision for a prosperous Scotland after complaints from many in the business community that Ms Sturgeon failed to engage with them.
But his efforts to do so must be undermined by sharing power with a party that secured a small share of the vote in the 2021 election and many members of which are at best suspicious of and at worst hostile towards economic growth.
The Scottish Greens may be the next vestiges of the ancien regime from which Mr Yousaf seeks to distance himself. If he does not throw them overboard to keep the SNP government afloat, the appetite for mutiny within his party's restive ranks is likely to grow.