Leader of the Scottish Conservatives Douglas Ross has earned £56,000 for refereeing since 2017 election
The new leader of the Scottish Conservatives has earned around £56,000 as a linesman and referee since he was elected an MP in 2017.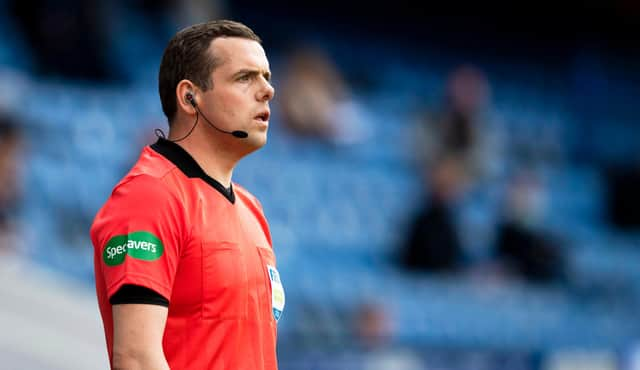 Scottish Conservative leader Douglas Ross has earned £56,000 since 2017 in fees as a linesman.
The figure comes in the final part of a four-part analysis of the outside income, gifts and foreign trips all 59 Scottish MPs elected to the House of Commons have received since 2010.
Mr Ross is one of several high-profile MPs, such as the Westminster leader of the SNP, Ian Blackford, who have earned thousands through outside lucrative business interests and work.
Mr Blackford has earned more than £170,000 in his roles as trustee and now chairman of Golden Charter Trust Ltd, which operates funeral payment plans for individuals and safeguards the money from those payment plans.
The income as a linesman was reduced while Mr Ross was an MP, with his outside income donated to charity.
The level of income has led to opposition labelling him a "part-time politician", while the Tories said the "cheap" jibes were hypocritical due to Mr Blackford's own income.
The SNP's Tom Arthur MSP said the level of income showed Mr Ross' "long and shameful" history of missing parliamentary votes to run the line.
He said: "Douglas Ross has a long and shameful history of missing key parliamentary engagements in order to run the line at football matches.
"The real kick in the teeth is that despite raking in thousands of pounds for rubbing shoulders with famous footballers, Douglas Ross couldn't even bring himself to vote to give free school meals to children.
"It's clear where his priorities lie and it's certainly not with his constituents. This is typical of the Tories - Mr Ross clearly is far more interested in his lucrative refereeing career than standing up for the people of Scotland."
Scottish Labour's Neil Findlay MSP said it was clear Mr Ross was more interested in "lining his pocket" than about "ensuring hungry children are fed".
He said: "It is shocking that a man who refused to support free school meals for children pocketed the equivalent of two or three yearly wages through his hobby.
"When it comes to focusing on making money on the side, it seems that Douglas Ross is cut from the same cloth as his real boss Ruth Davidson. Perhaps Douglas Ross fancies a seat in the Lords at some point too?"
Scottish Greens' MSP John Finnie said: "Mr Ross has not only made this extra income from refereeing, he's also missed vital parliamentary votes to do it. Next May he's asking for voters to give him another job on top of that.
"Given he's already struggled to juggle his priorities, it seems like a stretch, with the losers, as ever, being his Moray constituents."
A spokesperson for the Scottish Conservatives said the "cheap political digs" from the SNP were embarrassing and labelled them hypocritical.
The spokesperson said: "Match fees while Douglas was a Scotland Office minister are being donated to charity.
"The SNP's cheap political digs are embarrassing and hypocritical beyond belief considering their Westminster leader Ian Blackford has raked in an absolute fortune from his second jobs.
"He pretends to be a humble crofter while every year, on the side of being an MP, various financial dealings make Mr Blackford about three times what someone on the minimum wage earns."
A message from the Editor:
Thank you for reading this article. We're more reliant on your support than ever as the shift in consumer habits brought about by coronavirus impacts our advertisers.
If you haven't already, please consider supporting our trusted, fact-checked journalism by taking out a digital subscription.
Want to join the conversation? Please or to comment on this article.