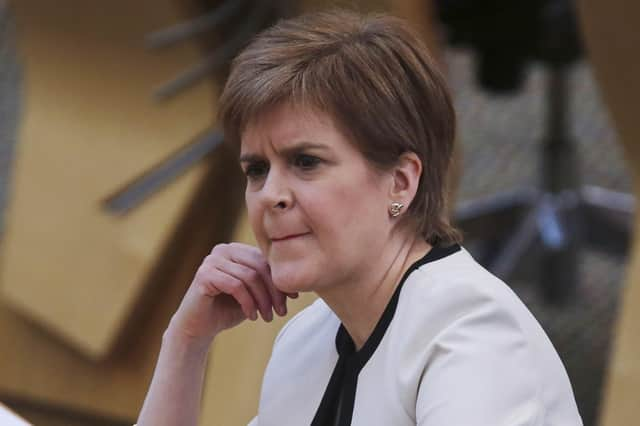 If Nicola Sturgeon does resign she may choose to do so after a Pyrrhic victory in May's Scottish Parliament election. (Photo by Fraser Bremner - Pool/Getty Images)
Early this week James Hamilton QC is expected to present his findings into whether Ms Sturgeon breached the Ministerial Code over her government's handling of sexual harassment allegations against her predecessor Alex Salmond.
And on Tuesday a cross-party committee of MSPs is expected to publish findings that state the First Minister misled Parliament.
On Wednesday Ms Sturgeon will face a vote of no confidence before Holyrood is dissolved and election campaigning begins on Thursday.
Ms Sturgeon and her supporters have already indicated she is not minded to resign. When it emerged last week that the committee had voted that she misled Parliament its non-SNP members were denounced as partisan.
Unless Mr Hamilton unequivocally finds she knowingly misled Parliament it seems unlikely she will quit and likely that - with the support of pro-independence Green MSPs - she will survive Wednesday' s vote to lead the SNP to election victory in May.
But at what cost? Poll after poll suggests the SNP majority that seemed a racing certainty just a few weeks ago is increasingly unlikely. Indeed, a majority grouping of pro-independence SNP and Green MSPs is also far from certain.
Without that majority there would be no prospect of another independence referendum. Prime Minister Boris Johnson is likely to refuse one in any case but the absence of majority support for independence at Holyrood would render academic any talk of a re-run of 2014.
Instead, the SNP's shortcomings in government would come into sharper focus. By the end of the next Parliamentary term, the SNP will have been in power for 19 years, after Mr Salmond sent shockwaves through politics by winning one more MSP than Labour in 2007.
Under such circumstances, being First Minister and leader of the SNP may not appeal to Ms Sturgeon in the way it once did. Perhaps if she does resign she will choose to do so on her own terms after a Pyrrhic election victory in May.